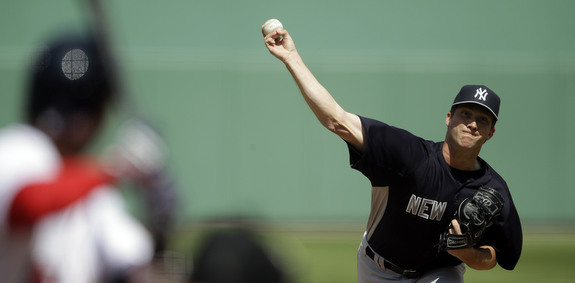 The Yankees beat the Red Sox for their second straight Grapefruit League win on Sunday afternoon. Adam Warren allowed a solo homer to Mike Napoli but otherwise threw three very good innings. Jose Ramirez followed with three shutout innings of his own. Brett Gardner and Eduardo Nunez both singled, and a lot of New York's runs came thanks to Boston errors. Thomas Neal hit an opposite field solo homer while both Tyler Austin and J.R. Murphy laced doubles. Solid game by the second stringers. Here's the box score and here's the rest from Tampa…
Ichiro Suzuki is fine following a three-car accident yesterday. He was driving through an intersection when a car going in the opposite direction turned left in front of him. Ichiro's car was totaled and the Yankees are sending him to the doctor as a precaution, but apparently no one involved in accident was hurt. [George King & Bryan Hoch]
Andy Pettitte (two innings) and Mariano Rivera (one inning) both threw simulated games this morning. Both went well and both guys feel great. Rivera said he's ready to pitch in a game but will let Joe Girardi made the decision about when that actually happens. [Chad Jennings & Hoch]
Phil Hughes played catch on flat ground, his first time picking up a baseball since a bulging disk sidelined him a little less than two weeks ago. He felt fine and has no pain. Boone Logan said he's had a "little annoying thing" in his elbow for a while — he did say it wasn't pain, for what it's worth — and expects to be back on the mound in the middle of next week. [Sweeny Murti & Jennings]
CC Sabathia, Joba Chamberlain, and David Robertson were the projected big leaguers to throw bullpen sessions today. Borderline big leaguer Cody Eppley, who could make the team if Logan's elbow keeps barking, also threw. [Jennings]
Unsurprisingly, Girardi said the Yankees are likely to bring Curtis Granderson back from his injury as a center fielder. "I'm not 100% sure, but that's what we've talked about," said the skipper. Their top priority will getting Granderson's bat back into the lineup as soon as possible, not saving a handful of runs the rest of the season. [Dan Barbarisi & Murti]
First baseman Greg Bird has been reassigned to minor league camp. The Yankees still have 73 players in big league camp, but that will number will continue to be whittled down in the coming weeks. [Jennings]
Robinson Cano, Mark Teixeira, and bench coach Tony Pena all left for the World Baseball Classic today. Pena is managing Cano and the Dominican Republic team, and they'll hold a workout at George M. Steinbrenner Field tomorrow. [Hoch]
The Yankees, meanwhile, are off on Monday. It's their first off-day of Spring Training. Their next game is against the Braves on Tuesday night, their first night contest of the year. David Phelps will start and the game will be available on YES.
Here is your open thread for the evening. The Rangers are playing plus MLB Network will air baseball all night, first Spring Training games then the World Baseball Classic. Talk about any of that and more here. Have at it.