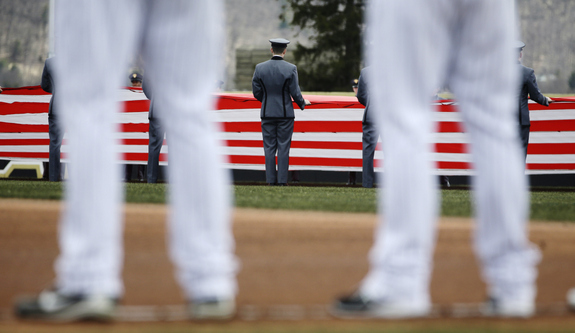 The Yankees beat the Army Black Knights in their final exhibition game of 2013 this afternoon. Both Brennan Boesch and Melky Mesa went deep while Vidal Nuno threw two scoreless innings. Boone Logan got roughed up, surrendering four runs in one-third of an inning. Other than that, not much else happened. Here is the box score and here are the final notes from Spring Training…
Following the game, Joe Girardi confirmed Boesch, Cody Eppley, and Adam Warren have all made the team. The Yankees still need to clear a 40-man roster spot for Lyle Overbay. The deadline to finalize the roster is 3pm ET tomorrow. [Chad Jennings]
Brian Cashman confirmed Alex Rodriguez will be at Yankee Stadium for Opening Day on Monday. It's unclear if he'll be in uniform and part of the pre-game introductions, but it's not like the Yankees ever cared about A-Rod getting booed before. [Erik Boland & Bob Klapisch]
Minor leaguers Craig Heyer and Evan DeLuca were released. Heyer made my 2011 Preseason Top 30 Prospects List while DeLuca never put it together after signing for $500k back in 2009. [Josh Norris]
The next game the Yankees play will actually count in the standings. They're off on Sunday and will welcome the Red Sox to the Bronx for a three-game set early next week. CC Sabathia vs. Jon Lester is your Opening Day pitching matchup for Monday.
Here is your open thread for the night. The Rangers, Devils, and Nets are all playing, plus MLB Network will air a Spring Training game as well. Talk about any of those games or anything else here. Enjoy.