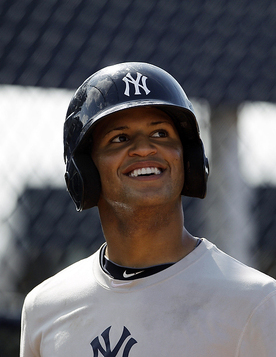 I've decided to modify DotF (in an undetermined way) this year for the sake of saving time and my sanity, but one feature that will not be changed is the Prospect Watch. Well, the featured player may change, but the format will remain mostly the same.
Last year we tracked outfielder Mason Williams' progress through the summer, and he rewarded us by hitting .298/.346/.474 (~125 wRC+) with 11 homers and 20 steals in 397 plate appearances before separating his left shoulder diving for a ball in late-July. The Prospect Watch was unused after the injury. In prior years we've tracked Phil Hughes, Joba Chamberlain, Andrew Brackman, Jesus Montero, Manny Banuelos, and a bunch of others I'm forgetting. It's been a while.
We should have a healthy debate for this year's watch subject because the Yankees have four pretty awesome position player prospects, all of whom are worthy of a spot in our sidebar. There's not much on the pitcher side right now, but that's alright. Position players are more fun because they play everyday anyway. Just as we did last year, let's vote on the 2013 Prospect Watch. First, the candidates with their rank on my Preseason Top 30 Prospects List in parenthesis.
OF Tyler Austin (3)
I'm listing these guys alphabetically, but it's also appropriate to start with Austin. The 21-year-old former catcher is the best statistical performer among the organization's top prospects, hitting .322/.400/.559 (~163 wRC+) with 17 homers and 23 steals (in 25 attempts) in 472 plate appearances across four levels last summer. He's expected to open the year with Double-A Trenton and has an outside chance of cracking the big league roster come September.
RHP Jose Campos (7)
I wanted to get at least one pitcher in the conversation, and the 20-year-old Campos was the obvious choice — Banuelos (#6 in my top 30) will miss the season due to Tommy John surgery while last year's first rounder Ty Hensley (#8) could start the year back in Extended Spring Training and not even appear in an official game until June. Campos, who pitched to a 4.01 ERA and 3.24 FIP in five starts before a season-ending elbow injury last year, is healthy and ready to start the season back with Low-A Charleston. An assignment to High-A Tampa might even be in the cards, but that would be aggressive.
OF Slade Heathcott (4)
Heathcott, 22, is the old man of the group. He missed the first half with his second left shoulder surgery last year, then hit .307/.378/.470 (142 wRC+) in 265 plate appearances with High-A Tampa before destroying the Arizona Fall League (192 wRC+). Heathcott is healthy now (for the time being, anyway) and has the loudest package of tools in the organization. He's slated to join Austin in the Double-A Trenton outfield.
C Gary Sanchez (1)
The team's top prospect (in my opinion), the 20-year-old Sanchez hit .290/.344/.485 (~125 wRC+) in 474 plate appearances split between Low-A Charleston and High-A Tampa last summer. His 18 homers led all minor league catchers. Sanchez is expected to begin the season back with Tampa, but a midseason promotion to Double-A Trenton is well within reach.
OF Mason Williams (2)
We've never had a two-time Prospect Watch guy, but there's no rule that says we can't do it. Williams, 21, has recovered from his shoulder injury — an injury that required surgery — and will join Sanchez back with High-A Tampa to open the summer. Although I ranked him as the team's second best prospect, Baseball America had Williams in the top spot.
* * *
A few times in the past the Prospect Watch choice was obvious, but that's not really the case here. Some of these guys might put up gaudier stats than others, but they're all quality prospects worth monitoring as the season progresses.
Who should be featured in the 2013 Prospect Watch?