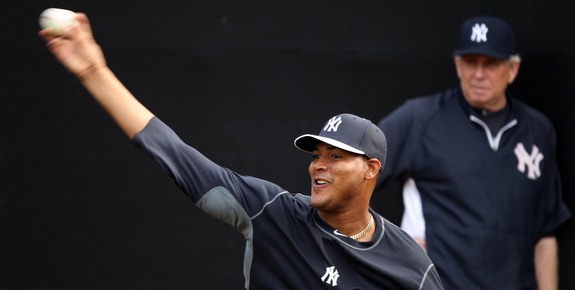 Ivan Nova will make his Grapefruit League debut against the Tigers this afternoon, his first real step towards showing the second half of last year was an injury-hampered — remember he missed three weeks with a sore shoulder — fluke and not an indication of his MLB production going forward. We saw how good Nova can be during the second half of 2011, and that's the guy the Yankees are looking to stick at the back of their rotation this year.
As you surely know by now, Ivan's strikeout and walk rates took major steps forward last summer despite the disappointing year. He needs to work on his overall command and keeping the ball out of the middle of the plate, the main reason he led the league in extra-base hits allowed despite only throwing 170.1 innings. The first Spring Training outings tells us very little, but it sure would be nice to not see Nova get smacked around again. Here's the starting line…
CF Brett Gardner
RF Ichiro Suzuki
2B Robinson Cano
1B Mark Teixeira
3B Kevin Youkilis
DH Travis Hafner
LF Matt Diaz
SS Jayson Nix
C Chris Stewart
And on the mound is the right-hander from San Cristobal, Ivan Nova. Here is the day's second string, courtesy of Chad Jennings.
Available Pitchers: LHP Clay Rapada, RHP David Aardsma, RHP Shawn Kelley, RHP Mark Montgomery, RHP Matt Daley, and LHP Francisco Rondon will all come out of the bullpen.
Available Position Players: C Kyle Higashioka, 1B Luke Murton, 2B Corban Joseph, SS Gil Velazquez, 3B Dan Johnson, LF Ramon Flores, CF Adonis Garcia, RF Tyler Austin, and DH Francisco Arcia are all coming off the bench.
Today's game is scheduled to start a little after 1pm ET and can be seen on YES and MLB.tv (no local blackout). Enjoy.