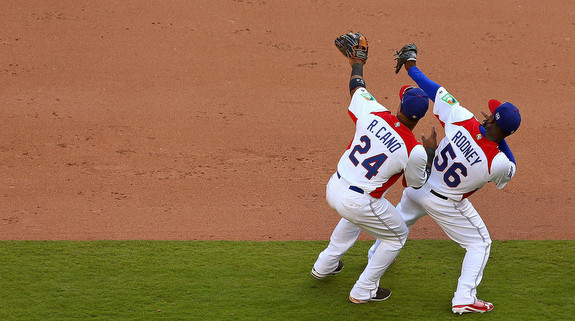 Fresh off his MVP-winning performance with the World Baseball Classic champion Dominican Republic, Robinson Cano is back in Yankees camp for the first time in about three weeks. He had 32 at-bats during the WBC, which put him at 50 total for Spring Training. That leads the Yankees. So yeah, Cano won't be rusty despite being away from the team. Let's just hope he avoids the injury bug that seems to be spreading through the clubhouse. Here's the starting lineup, which looks an awful lot like what we figure to see for much of April…
CF Brett Gardner
LF Ichiro Suzuki
2B Robinson Cano
1B Kevin Youkilis
DH Travis Hafner
RF Brennan Boesch
SS Eduardo Nunez
3B Jayson Nix
C  Frankie Cervelli
And on the mound is the St. Louis kid, David Phelps. Here is the night's second strong, courtesy Chad Jennings.
Available Pitchers: RHP Mariano Rivera, RHP David Robertson, LHP Boone Logan, and RHP David Aardsma will all pitch. Robertson pitched yesterday and I believe this will be his first set of back-to-back appearances in camp.
Available Position Players: C Austin Romine, 1B Dan Johnson, 2B Gil Velazquez, SS Walter Ibarra, 3B Ronnie Mustelier, LF Addison Maruszak, CF Melky Mesa, and RF Thomas Neal are all scheduled to come off the bench.
Tonight's game is scheduled to begin a little after 7pm ET and can be seen on YES and MLB.tv (no local blackout). Enjoy.