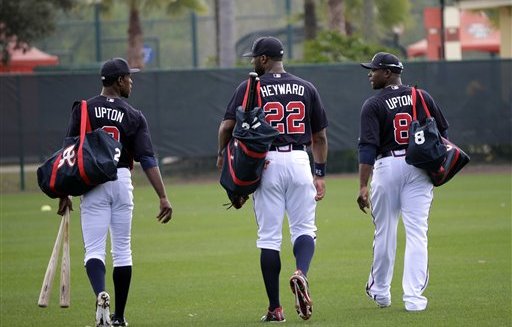 For the first time in 2013, the Yankees are playing a night game. The Braves and their ridiculously awesome outfield are in town for the nightcap, though B.J. Upton will be at DH rather than his customary center field. Yankees fans have seen enough of him over the years though, Justin Upton and Jason Heyward are where it's at. You can make a really strong case they are two of the three best 25-and-under corner outfielders in baseball along with Giancarlo Stanton, and Atlanta has both (and the elder Upton) under control for the next three years. Jealous.
Anyway, the Yankees are coming off their first Spring Training off-day and the name of the game right now is survival. Curtis Granderson is out until May with a fractured forearm and this afternoon Mark Teixeira had to leave Team USA because of a forearm strain. Between that stuff and Phil Hughes' back, let's just get through the rest of the week with no more injuries, okay? Okay. Here's the lineup…
CF Brett Gardner
LF Ichiro Suzuki
2B Jayson Nix
DH Travis Hafner
SS Eduardo Nunez
C Chris Stewart
1B Dan Johnson
RF Zoilo Almonte
3B Corban Joseph
And on the mound is the right-hander from suburban St. Louis, David Phelps. Here are tonight's second stringers, courtesy of Chad Jennings.
Available Pitchers: RHP David Robertson, RHP Joba Chamberlain, RHP Branden Pinder, LHP Francisco Rondon, RHP Mark Montgomery, and RHP Shawn Kelley are all scheduled to come out of the bullpen.
Available Position Players: C J.R. Murphy, 1B Luke Murton, 2B Jose Pirela, SS Addison Maruszak, LF Ramon Flores, CF Melky Mesa, and RF Thomas Neal will all come off the bench. I guess Hafner and Joseph will play all nine innings.
Tonight's game is scheduled to start a little after 7pm ET and can be seen on YES and MLB.tv (no local blackouts). Enjoy.