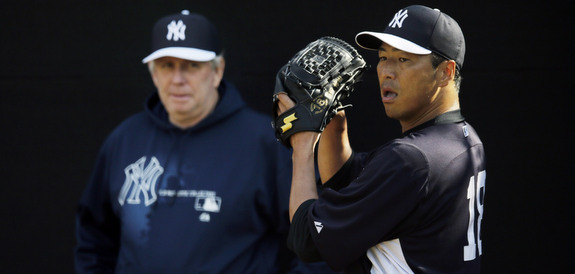 Assuming Ivan Nova came into camp with a leg up in the fifth starter's competition, the Yankees will send a projected big league starter to the mound for the first time this spring today. Hiroki Kuroda is making his Grapefruit League debut against Roy Halladay and the Phillies this afternoon, exactly one month before Opening Day. The rest of the projected rotation will make their debuts in the coming days and weeks.
As Kuroda makes his debut, Kevin Youkilis will be returning to the lineup following a brief oblique-related scare. He insisted it was nothing major and considering he only missed a few days, I have to agree. Obliques tend to linger and he wouldn't be back so soon — in Spring Training, no less — if it was anything more than a stitch in his side. Joe Girardi hinted he might only get one at-bat, however. Here is the starting lineup…
SS Eduardo Nunez
C Frankie Cervelli
2B Robinson Cano
3B Kevin Youkilis
DH Juan Rivera
LF Melky Mesa
RF Thomas Neal
1B Kyle Roller
CF Adonis Garcia
And on the mound is the right-hander from Osaka, Hiroki Kuroda. Here is the day's second string, courtesy of Chad Jennings.
Available Pitchers: RHP David Robertson, RHP Joba Chamberlain, RHP Cody Eppley, and LHP Vidal Nuno will all come out of the bullpen. RHP Mark Montgomery is also available if needed.
Available Position Players: C Gary Sanchez, 1B Greg Bird, 2B Walt Ibarra, SS Gil Velazquez, 3B Addison Maruszak, LF Ronnie Mustelier, RF Zoilo Almonte, and DH Bobby Wilson will all come off the bench. Garcia is scheduled to play the entire game in center.
This afternoon's game is scheduled to start a little after 1pm ET and can be seen on both YES and MLB.tv (no local blackouts). Because it's Friday, I'm going to chat during the game. That will start right around first pitch, so join in after the jump.