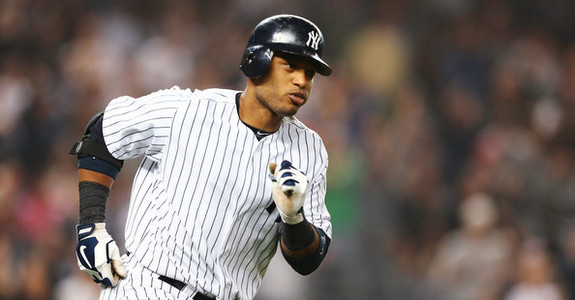 The blows just keep on coming. Yesterday afternoon the Yankees learned Mark Teixeira had strained his wrist while taking batting practice with Team USA in Arizona the day before, an injury that will sideline him for 8-10 weeks. That comes a little more than a week after Curtis Granderson's forearm was broken by a J.A. Happ pitch and about two weeks after Phil Hughes was sidelined by back trouble. Things have gotten so bad that Brian Cashman will spend eight weeks on crutches after breaking his leg skydiving for charity. The Yankees haven't been bit by the injury bug, this is an infestation.
Those injuries, specifically the long-term-ish losses of Granderson and Teixeira, make Robinson Cano the most important position player in baseball. No other team that fancies itself a contender will rely as heavily on one player as the Yankees will rely on Cano early this season. He's the clear focal point of the offense — the team's best hitter for both average and power — and the hitter New York will need to plate every runner on-base and start rallies when the bases are empty. Guys like Kevin Youkilis and Travis Hafner will need to step up their game as complementary players, but neither is capable of providing the kind of impact the Yankees will need from Robbie.
The Yankees put themselves in this position, at least to a certain extent. Granderson's injury was a fluke and Teixeira's slightly less so, but the club did willfully downgrade in right field and behind home plate this offseason. They knew Derek Jeter was coming off ankle surgery and knew Alex Rodriguez needed hip surgery in early-December, yet their solution(s) was the injury-prone Youkilis and … Dan Johnson? They didn't bring in any other legitimate depth players for the left side of the infield, possibly because they had a little too much faith in the injury-prone David Adams and error-prone Eduardo Nunez. Now the club is stuck scrambling for a first/third baseman and Jeter has yet to appear in a Spring Training game because of his rehab.
When the season begins in 25 days, there's a decent chance the around-the-horn infield will be Youkilis, Nunez, Cano, and Johnson. On Opening Day. Think about that. Two-thirds of the outfield will feature slap-hitting speedsters, one of whom hasn't reached base in more than 31% of his plate appearances since 2010. Things are pretty bad right now. The Yankees can't afford to have Cano start the season slowly — remember that 90 wRC+ last April? — or worse, consistently bat with the bases empty. They need to protect him by getting runners on-base in front of him, not by sticking a big bat behind him. Trust me, there's no one in the organization they could bat behind Robbie that will make the other team pitch to him in a big spot. They need to stack their on-base guys in front of him and let him do damage. It's imperative he does, at least until some of the supporting cast gets healthy.
I honestly can't remember the last time the Yankees looked this … weak? vulnerable? underwhelming? all of the above? … heading into the season. You'd have to go back to the early-1990s, which I don't remember all too well. The club does have a strong rotation and bullpen, which is good because they're really going to need it, but Cano is going to have to carry them on the position player side. They need him more right now than they've ever needed him before because there were always those strong supporting players in the lineup to pickup any slack. Now? Nothing. It's Cano and hope some other guys exceed expectations around him.