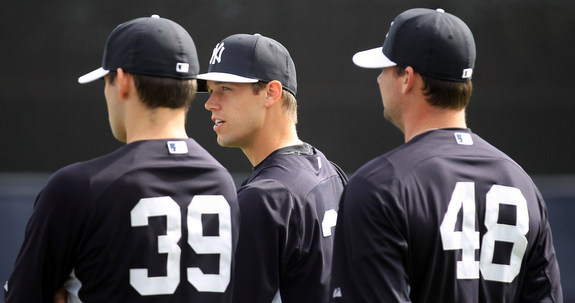 The Yankees had their first off-day of Spring Training yesterday, nearly three full weeks after pitchers and catchers first reported. I figure this is as good a time as any to cull together some random thoughts for a post.
1. I mentioned this the other night, but I've been really impressed by left-hander Francisco Rondon so far. Obviously three Grapefruit League appearances totaling 4.1 innings means nothing in the grand scheme of things, but his stuff is better than I expected. Usually when the top scouting publications like Baseball America, Keith Law, and even Minor League Ball ignore a player, he's a non-prospect. The 24-year-old Rondon looks like someone who has legitimately flown right under the radar. His delivery is real smooth and simple, plus he's been sitting 90-93 with his fastball and showing a real wipeout slider. That's lefty specialist stuff right there (30.8 K% vs. LHB last two years). Rondon isn't a finished product despite spending time at Triple-A last year and being placed on the 40-man roster this winter — he needs to work on his overall command, particularly with the fastball to setup the slider — but he's definitely someone to watch. I probably would have snuck him onto the back of my preseason top 30 prospects list if I hadn't published it before camp opened.
2. While on the subject of lefty relievers, Boone Logan's elbow trouble isn't very encouraging given that big workload last year. Remember, it's not just appearances and innings, it's all the times he warmed up and didn't get into the game as well. The Yankees do have decent left-handed relief depth but if Logan has to miss the start of the season for whatever reason, I'm guessing his replacement would be a righty like Shawn Kelley or Cody Eppley simply because those guys are better than southpaws like Josh Spence or Juan Cedeno or Rondon. Lefty Cesar Cabral should be ready in late-April/early-May-ish and will be another bullpen option. He needs to spend at least 90 days on the active (non-DL) roster to satisfy the Rule 5 Draft rules before he can be optioned down without being exposed to waivers. Either way, Logan's elbow will continue to be a question until he actually gets on a mound and throws some innings without breaking down.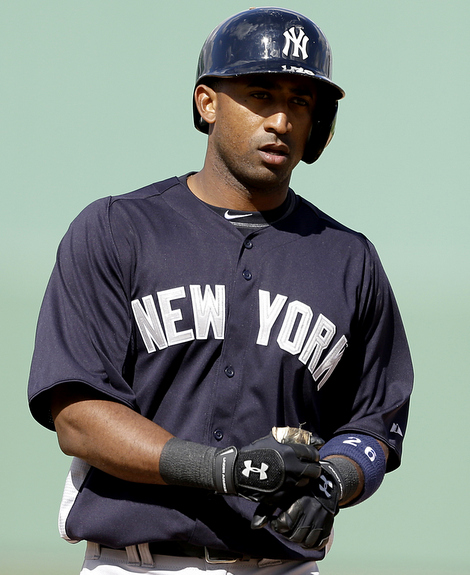 3. Obviously Derek Jeter's injury has contributed to this, but Eduardo Nunez has played more innings this spring than anyone other than Melky Mesa. The Yankees have been running him out there at short at pretty much every opportunity, to the point where Jayson Nix — the only other utility infielder candidate in camp — has started just one game at the position. That can change in a hurry of course, but it sure seems like the club is leaning towards carrying Nunez into the season with Jeter's ankle a question. Even if the Cap'n is ready in time for opening day, he's going to DH a ton in April — especially against lefties — and someone needs to man short in his place. That's fine, I'm actually in favor of using Nunez in that role (to a certain extent), but I do wonder if this will be his last chance to correct his defensive issues and stick with the team. I doubt it happens since he's always been a bad defender, but I can't imagine the Yankees would tolerate that much longer.
4. Speaking of Mesa, he's played ten (!) more innings than any of the other left field candidates this spring. That number is a bit skewed because Juan Rivera and Matt Diaz have gotten a healthy share of time at DH, but that ten-inning difference stands out when you're talking about unproven guys like Zoilo Almonte and Ronnie Mustelier. Again, this could all change in a hurry — it would have had Mesa not withdrawn from the World Baseball Classic — but it's hard not to think all that playing time means he has a leg up on everyone else in that competition. Given his ability to contribute on both sides of the ball — Almonte and Mustelier are clearly bat-first players — he probably deserves to have a leg up in the competition. None of these guys will replace Curtis Granderson's offense, but at least Mesa offers power, speed, and defense instead of just one of the three.