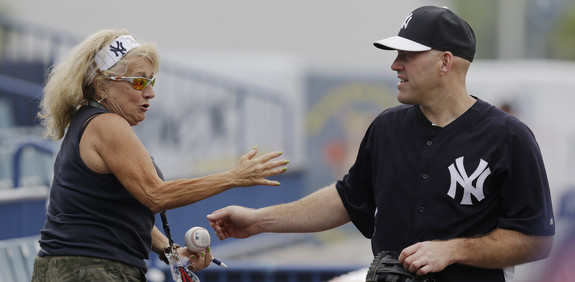 The Yankees will play their final Grapefruit League game this afternoon, then it's off to Washington and West Point for a pair of exhibition games before the season begins on Monday. I think it's safe to say this will be a Spring Training to forget.
1. The Yankees are putting left-hander Francisco Rondon in the Double-A rotation this year according to Josh Norris, and I'm not sure that's a good idea. I was impressed by Rondon in camp quite a bit, but he's a two-pitch guy (fastball, slider) with command issues and an injury history. He's also going to turn 25 in about three weeks and hasn't started a game since 2009. The choices are a) start in Double-A and maybe help in 2014, or b) relieve in Triple-A and possible help by June. It's a relief profile and while there's definitely some merit to using him as a starter just to accumulate innings, they shouldn't have him repeat a level just to get those innings. Stick Rondon in the pen and let him blow people away from the left side.
2. This goes without saying, but the Yankees need an awful lot out of Kevin Youkilis this year. Robinson Cano isn't going to get a damn thing to hit this summer and someone has to make the other team pay. There's nothing Youkilis could realistic do to force teams to pitch to Robbie, but he needs to capitalize on any opportunities he gets. Hopefully the strong spring — perhaps a result of his swing changes — carries over into the regular season, but I'm skeptical given his steady decline these last few years. There's a lot riding on a Youkilis bounceback right now.
3. While on the subject of Youkilis, it blows my mind that the Yankees knew about Alex Rodriguez's hip injury in December, signing the injury-prone Youkilis to replace him, and didn't bringing in anyone better than Dan Johnson (!) as third base depth. Thanks to release of David Adams, their third base depth is Jayson Nix and two guys who really can't play the position (Corban Joseph and Ronnie Mustelier). Add in Derek Jeter's ankle injury and the Yankees absolutely had to do better than Gil freaking Velazquez as veteran infield depth. The passive offseason looks even worse now thanks to all the injuries.
4. I think it's becoming pretty apparent the Yankees completely screwed the pooch with the way they went about preparing for the reduced payroll in 2014. They limited themselves to one-year deals and have a ton of money coming off the books this winter and that's great, but they're also going to have a ton of holes to fill and will be at the whim of the market. They really should have been more open to multi-year contracts this past offseason to get cost certainty going into 2014 rather than essentially procrastinating and worrying about it later. This whole thing is completely asinine. What a self-imposed, franchise-undermining nightmare.