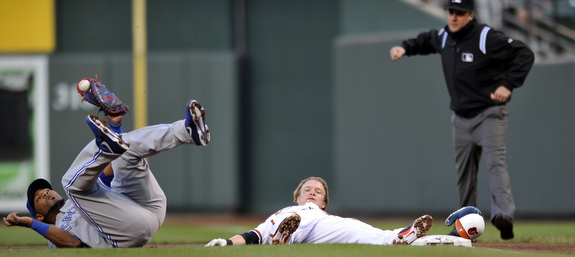 The Blue Jays made all their big offseason moves with an eye on winning the AL East title, and if they're going to win the division, these are the games they need to win. The Yankees are far from full strength due to injuries and these clubs are scheduled to play ten times through mid-May, which is right about when New York is expected to start getting some of their walking wounded back. If the Jays want to go from pretenders to contenders, these games are borderline must-wins.
What Have They Done Lately?
Well, Toronto is 1-2 so far in those borderline must-win games. The Yankees took two of three up north last weekend, then the Blue Jays lost another two of three to the Orioles in Baltimore this week. The Jays are 9-13 with a -29 run differential overall, and despite yesterday's win they have lost six or their last nine games.
Offense
Manager John Gibbons' club is averaging 3.9 runs per game so far, which is a bit below-average. They are closer towards the bottom of the league with a team 89 wRC+ and near the top with 26 homers. The Blue Jays lost a legitimate game-changer in SS Jose Reyes two weeks ago, when he suffered a severe ankle sprain sliding into second base. He had a team-leading 182 wRC+ and five steals in ten games before the injury.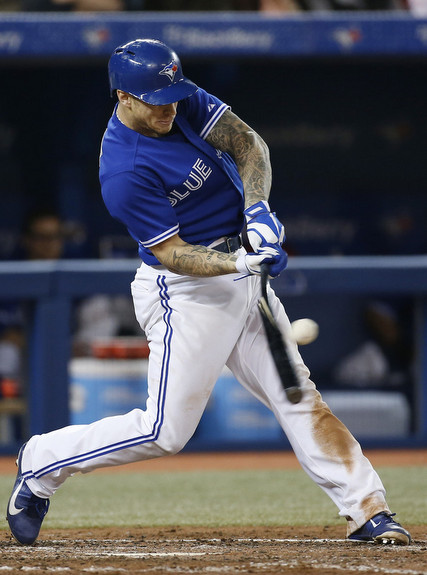 The club's new-look lineup is anchored by two big right-handed bats, RF Jose Bautista (112 wRC+) and 1B Edwin Encarnacion (96 wRC+). They aren't off to torrid starts, but both guys can hit the ball out of any part of any park in a moment's notice. Former Yankee LF Melky Cabrera (74 wRC+) is in the middle of the lineup mix as well, ditto the AL homerun leader C J.P. Arencibia (151 wRC+). He's gone deep eight times … and has a .286 OBP.
Psychopath/3B Brett Lawrie (-3 wRC+) headlines the rest of the lineup, which also features SS Munenori Kawasaki (75 wRC+), CF Colby Rasmus (118 wRC+), DH Adam Lind (110 wRC+), 2B Maicer Izturis (30 wRC+), OF Rajai Davis (93 wRC+), and UTIL Emilio Bonifacio (39 wRC+). UTIL Mark DeRosa (59 wRC+) gives the veteran presents and C Henry Blanco (12 wRC+) is on the roster for one reason and one reason only. We'll get to that in a bit.
Starting Pitching Matchups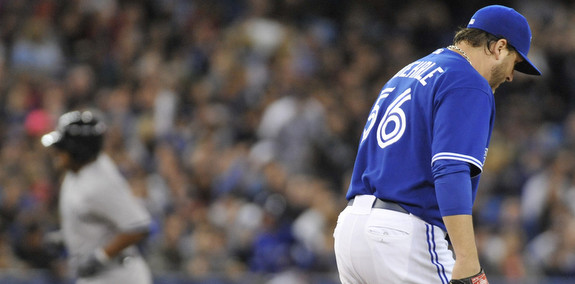 Thursday: RHP Hiroki Kuroda vs. LHP Mark Buehrle
The Yankees will get yet another opportunity to excise their demons against left-handed pitchers in the series opener tonight. The 34-year-old Buehrle struck out seven in seven innings against New York last weekend, allowing three runs and walking one. He owns a 5.87 ERA (4.36 FIP) through four starts, and as always the peripherals are unimpressive: 6.26 K/9 (15.12 K%), 2.35 BB/9 (5.7 BB%), and 40.2% grounders. His ground ball rate has been heading south for a few years now, but Buehrle is a guy who has outpitched his peripherals his entire career. Can't really evaluate him like we do everyone else. The long-time White Sox ace uses three different mid-80s fastballs — four-seamer, two-seamer, cutter — and an upper-70s changeup to keep hitters off balance. A low-70s curveball will also make an occasional appearance. The veteran New York lineup and veteran Buehrle have seen plenty of each other over the years. There are no surprises to be had.
Friday: RHP Ivan Nova vs. RHP Josh Johnson
Johnson, 29, is three years removed from his last full season as an ace-caliber pitcher, but he isn't nearly as bad as this year's 6.86 ERA and 4.59 FIP indicate. The right-hander is missing a ton of bats (8.69 K/9 and 19.4 K%), but his walk (4.12 BB/9 and 9.2 BB%) and ground ball (41.8%) numbers are far off from the elite marks he posted with the Marlins before Tommy John surgery. Johnson's four-seamer (and seldom used two-seamer) sits in the 91-95 mph range, and his swing-and-miss mid-80s slider is a wipeout pitch he'll throw to both righties and lefties. A hard upper-80s splitter-changeup hybrid and upper-70s curveball round out his repertoire. The Yankees have seen Johnson just twice before — they hung four runs on him in 5.1 innings last week, and the other start came way back before elbow reconstruction in 2009.
Saturday: LHP CC Sabathia vs. LHP J.A. Happ
A few weeks ago, Happ went from being the guy the Yankees smacked around in the 2009 World Series to the guy who broke Curtis Granderson's forearm with an errant pitch in Spring Training. The 30-year-old southpaw has pitched to a 3.68 ERA (3.83 FIP) in his first four starts of the season, posting solid strikeout (7.77 K/9 and 20.7 K%) and walk (3.68 BB/9 and 9.8 BB%) rates to go along with extreme fly ball tendencies (35.5% grounders). Happ uses two- and four-seam fastballs that sit right around 90 mph to set up his low-80s changeup, his primary offspeed pitch. Low-80s sliders and upper-70s curves are his clear fourth and fifth pitches. The Yankees saw Happ twice last summer after was traded to Toronto, and they roughed him up both times.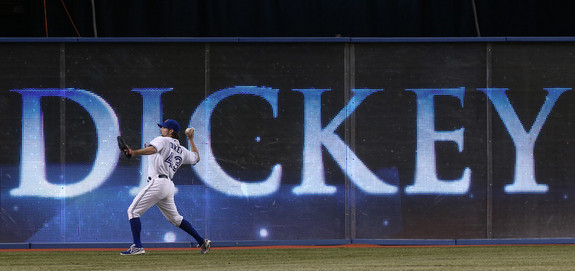 Sunday: RHP Phil Hughes vs. RHP R.A. Dickey
Dickey, 38, has yet to really get it going this season — 4.66 ERA and 4.26 FIP in five starts — after winning the NL Cy Young Award last year. He struggled last April as well — 4.45 ERA and 5.24 FIP in five starts — so I'm guessing he'll figure out it and start dominating before long. Dickey is a feel pitcher after all, and the cold early-season months are conducive to, well, a lack of feel. His strikeout (7.45 K/9 and 19.1 K%) rate is fine but the walk (4.34 BB/9 and 11.1 BB%) and ground ball (41.4%) totals leave a lot to be desired at the moment.
Dickey's trademark knuckleball is actually two knuckleballs — he throws a hard 76-81 mph knuckleball as a put-away pitch when ahead in the count and a softer 68-76 mph knuckleball almost like a get-me-over pitch when behind in the count. I highly recommend this 2010 Amazin' Avenue post for more on the duel-knuckleball phenomenon. Dickey throws his knuckleball(s) roughly 90% of the time with the other 10% being filled by low-80s fastballs. He doesn't have a UCL in his elbow, you know. The Yankees did not see Dickey last weekend but they faced him three times from 2011-2012 during the Subway Series. There's really not much preparation you can do for a knuckleball, it's the epitome of a see it and hit it pitch. Oh, remember when I said Blanco was on the team for one reason? Well, this is it. Here's there to catch the knuckleball.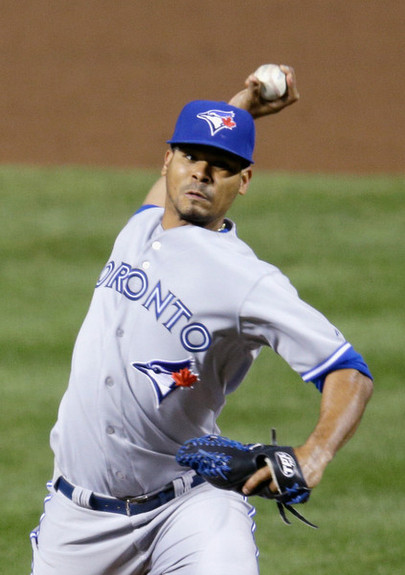 Bullpen Status
The Orioles did the Yankees a favor and forced the Blue Jays to play eleven innings yesterday, so Toronto's bullpen is a little taxed coming into the series. Setup men LHP Darren Oliver (3.24 FIP) and RHP Esmil Rogers (2.77 FIP) both pitched yesterday, as did closer RHP Casey Janssen (0.27 FIP). Oliver threw two innings, the other two guys one each. LHP Aaron Loup (3.39 FIP) is the middle innings lefty and he's pitched in each of the last two games.
Gibbons has two other lefties at his disposal, including one-time Yankees nemesis LHP Brett Cecil (3.02 FIP). He's no longer a starter though, just a traditional middle reliever who will face both righties and lefties. Former Yankee LHP Aaron Laffey (4.62 FIP) was claimed off waivers from the Mets a few days ago and has yet to appear in a game for the Jays this season. He started on Saturday for the Amazin's and should be ready to pitch by now. RHP Steve Delabar (2.86 FIP) rounds out the bullpen. The Yankees are in pretty good bullpen shape, but check out the Bullpen Workload page for exact usage details anyway. My preferred Blue Jays blogs are Drunk Jays Fans and Tao of Stieb.