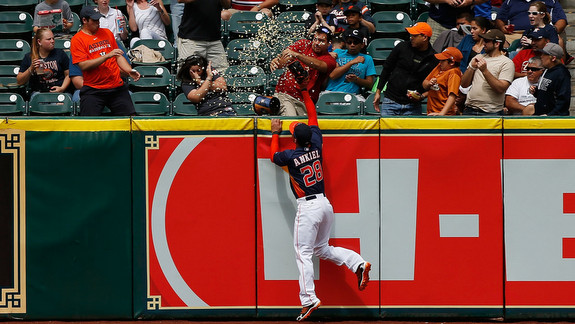 The Yankees are fresh off a four-game sweep of the division rival Blue Jays, and I'm not sure the schedule could have worked out any better to help continue the winning streak as the Astros are coming to the Bronx for three games. Then again, this has classic "trap series" potential.
What Have They Done Lately?
Lose, unsurprisingly. The Astros were just swept by the Red Sox in a four-game series, getting outscored 28-10. They did win two straight against the Mariners before that though. Overall, Houston is 7-18 with a -50 run differential, both the worst marks in the AL.
Offense
The Astros average 3.9 runs per game with a team 97 wRC+, both a touch below the league average. They are missing two important right-handed platoon bats in OF J.D. Martinez (92 wRC+) and former Yankees property OF Justin Maxwell (87 wRC+) due to a knee sprain and a broken hand, respectively.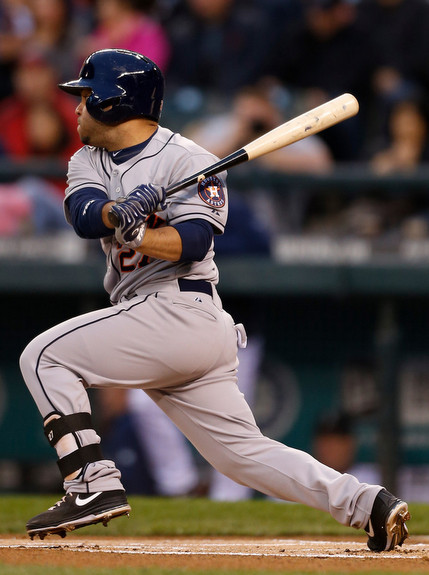 Manager Bo Porter's best full-time hitter is also his leadoff hitter, 2B Jose Altuve (121 wRC+). LF/DH Chris Carter (101 wRC+) and 1B Carlos Pena (86 wRC+) both play everyday as well, and both guys can hit the ball out of any park despite their massive strikeout issues. C Jason Castro (94 wRC+) and slick-fielding 3B Matt Dominguez (81 wRC+) are the team's only other everyday guys. Marwin Gonzalez (138 wRC+) and Ronny Cedeno (116 wRC+) split time at shortstop.
The rest of the Houston lineup is filled by platoon players, including right-handed hitters OF Brandon Barnes (178 wRC+ in limited time) and former Yankee 1B/3B Brandon Laird (129 wRC+ in limited time). Lefty bats OF Rick Ankiel (112 wRC+ with a 58 K% (!)) and OF Fernando Martinez (64 wRC+) start against righties. OF Robbie Grossman (-20 wRC+ in limited time) has taken over in center following Maxwell's injury while C Carlos Corporan (90 wRC+) backs up Castro. It's not a great lineup obviously, but they aren't total pushovers.
Starting Pitching Matchups
Monday: LHP Andy Pettitte vs. RHP Lucas Harrell
The Astros struck waiver wire gold with the 27-year-old Harrell last year, as he pitched to a 3.76 ERA (3.75 FIP) in 193.2 innings after being selected from the White Sox. He owns a 4.08 ERA (5.54 FIP) through five starts this year even though his strikeout (6.28 K/9 and 16.3 K%) and ground ball (54.7%) rates are basically identical to last season. His walk (4.71 BB/9 and 12.2 BB%) and homer (1.57 HR/9 and 22.7% HR/FB) numbers have jumped a ton though. Harrell is a big time two-seam fastball guy, throwing the low-90s pitch roughly 60% of the time. He'll also throw a low-90s four-seamer and upper-80s cutter on occasion, and his array of offspeed pitches includes a mid-80s slider, a low-80s curveball, and a low-80s changeup. He doesn't throw any of those pitches more than eight or so percent of the time, however. That two-seamer is his bread-and-butter. Harrell has never pitched against the Yankees in his career and only three players (Brennan Boesch, Jayson Nix, and Travis Hafner) on the roster have ever faced him before.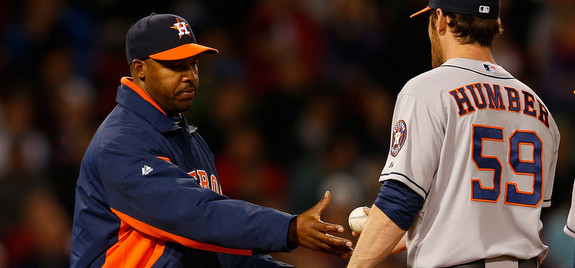 Tuesday: RHP Hiroki Kuroda vs. RHP Phil Humber
Baseball has not been kind to Humber since his perfect game last April. The 30-year-old has pitched to a 7.54 ERA (~5.99 FIP) in 111 innings since making history, including a 7.99 ERA (4.69 FIP) in five total starts this year. He hasn't struck anyone out (4.94 K/9 and 11.5 K%), but he has done an okay job of limiting walks ( 3.04 BB/9 and 7.1 BB%) and getting grounders (45.5%). Either way, he's been pretty close to the worst starting pitcher in baseball so far this year. Humber is very offspeed heavy, throwing his upper-80s two- and four-seamers a combined 41.2% of the time. Upper-70s curveballs and mid-80s sliders are his top secondary pitchers, and he'll also throw a mid-80s changeup. The Yankees have faced Humber twice before, both times when he was having success with the White Sox back in 2011.
Wednesday: RHP David Phelps vs. LHP Erik Bedard
Bedard, 34, has managed to stay healthy in the early going after years and years of injury trouble. The results haven't been very good (7.98 ERA and 6.47 FIP) so far, which isn't terribly surprising given his walk (4.91 BB/9 and 11.4 BB%), ground ball (33.3%), and homer (3.07 HR/9 (!) and 23.8% HR/FB) rates. He is striking out plenty of batters though (11.66 K/9 and 27.1 K%), which is something he never really stopped doing even while battling all the physical problems. Bedard's money-maker remains a knockout mid-70s curveball he can throw for a called strike or bury in the dirt for a swing-and-miss. He'll also throw an upper-70s changeup and set things up with three fastballs: upper-80s/low-90s two-seamer, four-seamer, and cutter. The two-seamer is the most used by far. The Yankees saw Bedard a bunch during his Orioles days, but he hasn't started a game against them since May 2008.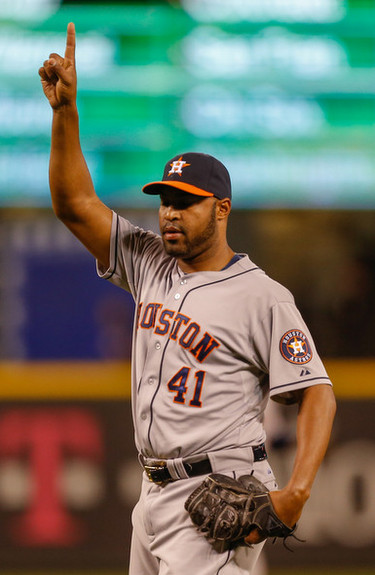 Bullpen Status
Despite the beatdown in Boston, Porter's bullpen is in decent shape because Bud Norris threw six innings yesterday before RHP Jose Cisnero (2.08 FIP) followed with two innings to wrap things up. The team carries three long man types out of necessity, with RHP Paul Clemens (6.48 FIP) and LHP Travis Blackley (7.16 FIP) doing the honors alongside Cisnero.
When they do actually have a lead, the Astros use former Yankee Jose Veras (1.86 FIP) to slam the door in the ninth inning. The setup crew is some combination of matchup guys RHP Rhiner Cruz (6.48 FIP), LHP Wesley Wright (3.08 FIP), and RHP Hector Ambriz (3.45 FIP). The Yankees have relied on their late-game arms pretty heavily of late, which could limit their availability in this series. Check out our Bullpen Workload page for the exact details. There aren't a ton of Astros blogs out there, but Crawfish Boxes is the best of the bunch.