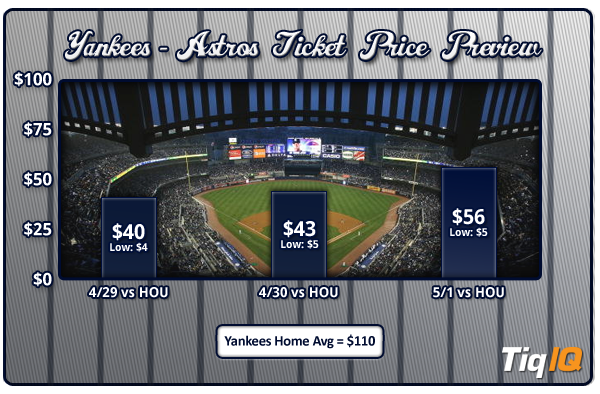 By Dan Groob, TiqIQ
Given the Yankees' large market and devoted fan base, it is always expensive to procure New York Yankees tickets. Although this season seemed to begin a bit unenthusiastically, the Yankees fast start still has them right among the league leaders in average attendance and as April comes to a close, the New York Yankees appear to have silenced their critics by surging to the third best record in all of baseball. Despite playing the first month of the season without arguably their three best power hitters in Curtis Granderson, Mark Teixeira, and Alex Rodriguez, the Yankees have done significant damage with the long ball. Paced by Robinson Cano (7), Vernon Wells (6), and Travis Hafner (6), the Bronx Bombers' have smacked 33 home runs so far, good for first in the American League.
Coming off a four game sweep of the Toronto Blue Jays, the preseason favorites to capture the AL East crown, the Yankees look to keep things rolling through a three game set with the Houston Astros. With the worst record in baseball at 7-18, the Astros essentially represent a polar opposite team from the Yankees. Much has been made of the Yankees possessing four players—Alex Rodriguez, Mark Teixeira, CC Sabathia, and Vernon Wells—who will make more than the entire Astros 25-man roster this season. Additionally, the Yankees are Major League Baseball's oldest team, with an average age of 30.9, while the Astros are the youngest at 27.2. Those Astros come to town this week, with their lack of star power, are one of the lesser road draws this season. That creates an opportunity for cheaper tickets in major markets such as New York, even as the team heats up into the summer months.
According to TiqIQ, the three game set with the Astros that kicks off tonight is the least expensive series of the season at Yankee Stadium. Games 1 and 2 of the series are the two cheapest individual games of the season. While the Yankees carry an average home ticket price of $110 dollars, the average ticket price for tonight's game checks in at just $40 dollars—a 64% discount to the season average.
Yankees home avg: $110
Game 1: $40/$4
Game 2: $43/$5
Game 3: $56/$5
Series Avg: $46
Game 2 of the series doesn't command much of a premium to game 1, pricing at an average of just $43 dollars. Prices receive a slight bump for Wednesday night's game, the first game of May, but only to $56 dollars—still roughly half the season average. With tickets available for as little as $4 or $5 dollars depending on the night, this Houston series represents a tremendous opportunity for fans to catch some action at Yankee Stadium on the cheap.