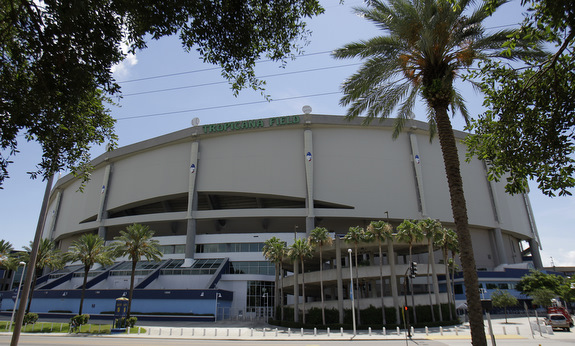 The Yankees just played three games on turf in Toronto, now they'll play three more in Tampa. They're in their home away from home, a place with a huge faction of Yankees fans thanks to transplants and the club's ties to the Tampa area. It's not quite like a home game — some games at Camden Yards in recent years really felt like they were being playing the Bronx, no? — but it's damn close. Here's the lineup that will face left-hander Matt Moore…
And on the mound is the man with the fourth highest bWAR in MLB history among left-handed pitchers through their age-32 season, CC Sabathia. Here's the link if you don't believe me.
Tonight's game is scheduled to start a little after 7pm ET and can be seen on YES locally and ESPN nationally. The weather in St. Petersburg is gorgeous, but oh wait, they're playing in a dome. For shame. Enjoy the game.
Curtis Granderson Update: Granderson hit off a tee and soft toss today for the first time since suffering his fractured forearm. He continues to play catch as well, though there is no firm timetable for his return. Granderson said he thinks he'll need 50-75 at-bats before he can rejoin the team — he missed all of Spring Training, remember — but the good news is he should be able to take advantage of the informal nature of Extended Spring Training and get like, ten at-bats a day.
Late Kevin Youkilis Update: Youkilis was a last-minute scratch because his stiff back starting acting again during batting practice.