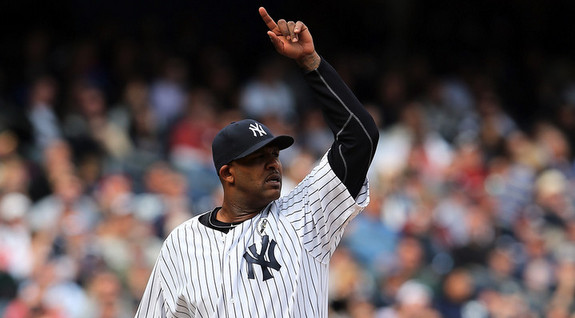 CC Sabathia might have the quietest 3.34 ERA in baseball right now. He hasn't been particularly sharp in any of his five starts outside of his seven shutout innings in Detroit, and he's been prone to the "one bad inning." The Red Sox scored four runs against him in the second inning on Opening Day, the Diamondbacks scored two runs against him in the first inning two starts ago, and the Rays scored four runs against him in the first last time out. Six of the 14 runs he's allowed this year have come in that first inning (42.9%), which is way more than the league average (21.7%). Today would be as good a time as any to reverse that annoying trend. Here is the starting lineup that will face left-hander J.A. Happ…
CF Brett Gardner
3B Jayson Nix
2B Robinson Cano
LF Vernon Wells
1B Kevin Youkilis — came through batting practice after missing a week with back trouble
DH Travis Hafner
RF Ichiro Suzuki
SS Eduardo Nunez
C Chris Stewart
And on the mound is the big man, CC Sabathia.
It's a gorgeous day for baseball in New York. First pitch is scheduled for a little after 4pm ET and can be seen on YES. It's not a FOX game despite the unusual start time, so hooray for that. Enjoy the game.
Roster Move(s): In case you missed it earlier, Ivan Nova was placed on the 15-day with right triceps inflammation. Vidal Nuno has been called up from Triple-A to take his spot. Austin Romine was also recalled to replace Frankie Cervelli, who was officially placed on the 15-day DL with a broken right hand.