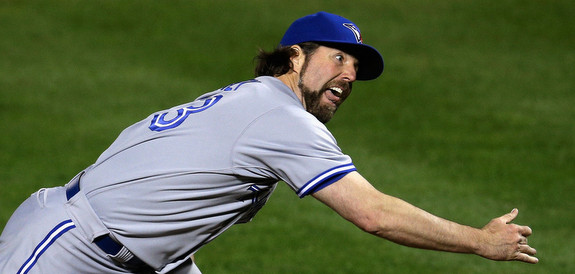 The Yankees have won the first three games of this four-game series against this winter's offseason darling, the currently last place Toronto Blue Jays. If it wasn't for the lowly Astros, the Jays would have the worst record (9-16) and run differential (-34) in the AL. It's early, but they've been a big disappointment.
Four-game sweeps are pretty rare, and if the Yankees are going to pull it off they're going to have to beat the reigning NL Cy Young Award winner to do it. R.A. Dickey's 4.66 ERA (4.24 FIP) is relatively mediocre at the moment, but it's not all that surprising a feel pitcher is off to a slow start. He had a 4.45 ERA (5.24 FIP) last April before turning into the best pitcher in the world during the summer. Here's the lineup…
CF Ichiro Suzuki
2B Robinson Cano
LF Vernon Wells
DH Travis Hafner
RF Brennan Boesch
3B Jayson Nix
1B Lyle Overbay
SS Eduardo Nunez
C Chris Stewart
And on the mound is the fourth longest tenured player on the active roster, Phil Hughes.
It's a beautiful day for baseball in New York. This afternoon's game is scheduled to start a little after 1pm ET and can be seen on YES locally and TBS nationally. Enjoy.
Kevin Youkilis Update: Youkilis' back is bothering him again, which is bad news. If he does need to go on the DL, the Yankees won't be able to backdate it because he played yesterday. For shame.