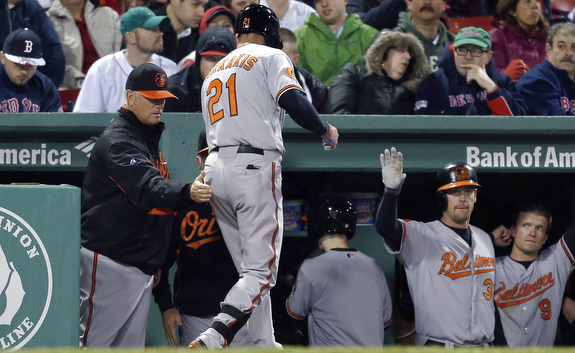 First, the good news: the Yankees are back home in the Bronx to open a three-game weekend series with the sudden division rival Orioles, who just took two of three from the Red Sox in Fenway Park. They used both Darren O'Day and Jim Johnson in each of the last two days, so the back-end of Baltimore's bullpen might be a little short the next day or two.
Now, the bad news: the weather still sucks. After having the last two games against the Indians rained out, the Yankees are back home and are staring at another potential rain-interrupted game. It's been raining on-and-off all day in New York, with most of the heavy stuff coming this morning. The forecast calls for another shower tonight and maybe possibly a playable window later on. Getting a little sick of this weather nonsense.
Also, some more bad news: right-hander Miguel Gonzalez will be on the mound for the Orioles. Between the regular season and postseason last year, he held the Yankees to four runs in 20.2 innings (1.74 ERA) with 24 strikeouts and just one freaking walk across three starts. Goodness. I guess it's good nearly the entire lineup looks different right now than it did last year. Here's the starting line…
CF Brett Gardner
2B Robinson Cano
3B Kevin Youkilis
DH Travis Hafner
LF Vernon Wells
RF Ichiro Suzuki
SS Eduardo Nunez
1B Lyle Overbay
C Frankie Cervelli
And on the mound is the would-be 2000 Olympian, CC Sabathia. He was called up to the big leagues and had to be removed from the Olympic roster. USA won the gold anyway.
Tonight's game is scheduled to start a little after 7pm ET and can be seen on My9. Yep, the first My9 game of the season. Obviously the rain may change things. If they do play, and I really hope they do, enjoy the game.