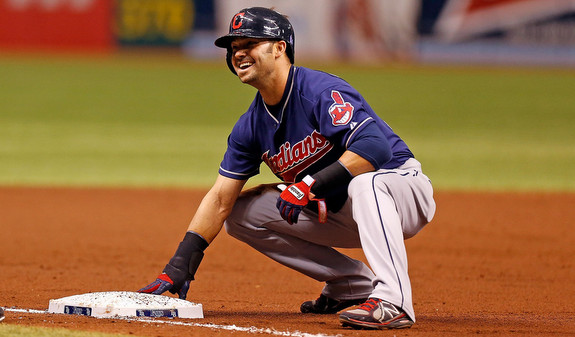 The Yankees are in Cleveland this afternoon to start a four-game series against the Indians, which means two reunions. First, the Yankees will see their former right fielder Nick Swisher play first base and bat cleanup for the Tribe after signing a four-year, $56M contract this offseason. He spent four very productive years in New York but was allowed to walk as a free agent.
The bigger reunion in the grand scheme of things is Travis Hafner's return to the Cleveland. He spent parts of ten years with the Indians, putting up some monster MVP-caliber seasons while also missing a ton of time due to various injuries. Hafner signed what is still the richest franchise in franchise history once upon a time, a four-year pact worth $57M. Swisher came in just under that total. I have to think Hafner will get a very warm reception this afternoon. Here's the lineup…
CF Brett Gardner
2B Robinson Cano
3B Kevin Youkilis
DH Travis Hafner
LF Vernon Wells
RF Ichiro Suzuki
SS Eduardo Nunez
1B Lyle Overbay
C Chris Stewart
And on the mound five days after taking a line drive to the finger tips is right-hander Hiroki Kuroda. It'll be interesting to see if there are any lingering effects from the liner — Kuroda's command disappeared after getting hit.
The game is scheduled to start a little after 4pm ET and can be seen on YES locally and MLB Network nationally. This is the Indians' home opener, so pre-game festivities may delay things. Enjoy the game.