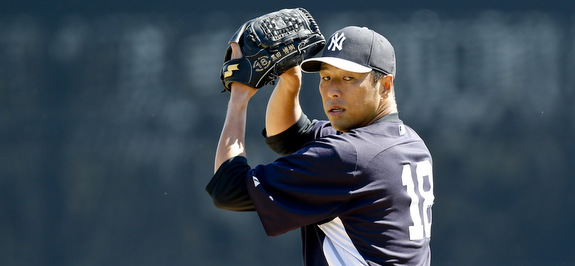 All the pomp and circumstance of Opening Day is over. We're beyond the base line introductions and we've already seen all the new faces in pinstripes, now it's time to get back to the day in, day out grind of baseball. One game after another, day after day. The everyday schedule is both beautiful and without mercy, caring not about bad timing or injuries or anything else. As the old saying goes, playing everyday is both the best and worst thing about baseball.
After facing left-hander Jon Lester on Opening Day, the Yankees will be able to trot out their A-lineup against right-hander Clay Buchholz this evening. Well, at least what's left of their A-lineup anyway. I don't think I'm alone in saying I'd much rather than Travis Hafner and Lyle Overbay in the lineup than Ben Francisco and Jayson Nix. Either way, it's time to #HIROK. Here's the lineup…
CF Brett Gardner
RF Ichiro Suzuki
2B Robinson Cano
3B Kevin Youkilis
DH Travis Hafner
LF Vernon Wells
1B Lyle Overbay
SS Eduardo Nunez
C Chris Stewart
And on the mound is number eighteen, Hiroki Kuroda.
It is brutally cold in New York and I'm not sure how that will impact the game. Maybe the pitchers will have trouble gripping the ball or maybe the hitters will be in agony when they make contact. Who knows. The game is scheduled to start a little after 7pm ET and can be seen on YES locally and ESPN2 nationally. Enjoy.
Derek Jeter Update: The Cap'n did some strengthening exercises and played long-toss in Tampa today, but he hasn't done any running or hitting since receiving a cortisone shot and being shut down with lingering soreness in his surgically repaired left ankle.