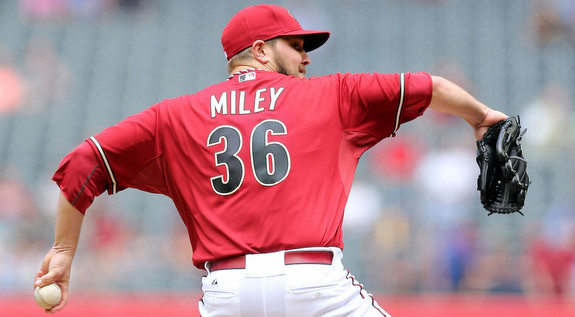 Starting tonight, the Yankees are scheduled to see five left-handed starters in their next seven games. NL Rookie of the Year runner-up Wade Miley kicks off the stretch that will also see them face Patrick Corbin (tomorrow), Mark Buehrle (Saturday), Matt Moore (Monday), and David Price (Tuesday). Hard-throwers, soft-tossers, medium-tossers … you name it and the Yankees will see it from the left side over the next week.
In the past, this was never much of a problem. The Bombers were among the most productive teams against southpaws in 2012 (111 wRC+), 2011 (124 wRC+), 2010 (114 wRC+), and so on. They've hit lefties very well in recent years. This year though, thanks mostly to injury, they are much more susceptible to lefty throwers. They come into today with a team 52 wRC+ against lefties, the fifth worst mark in baseball, compared to an MLB-best (by far) 146 wRC+ against righties. Outside of Kevin Youkilis, Vernon Wells, and Robinson Cano (who didn't hit lefties last year but has throughout his career), the Yankees just don't have much to counter left-handers right now. Here's the lineup…
CF Brett Gardner
LF Vernon Wells
2B Robinson Cano
1B Kevin Youkilis
DH Ben Francisco
C Frankie Cervelli
RF Brennan Boesch
SS Eduardo Nunez
3B Jayson Nix
And on the mound is New York's own left-hander, CC Sabathia.
Tonight's game is scheduled to start at 7:05pm ET and can be seen on My9, not YES. Enjoy.