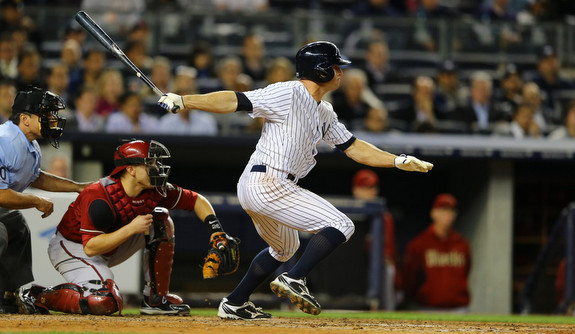 Brett Gardner isn't a young player anymore. The soon-to-be 30-year-old outfielder has played in parts of six big league seasons now and outside of his injury-sabotaged 2012 campaign, he's been an everyday player since 2010. The Yankees have given the speedster a number of opportunities to serve as their regular leadoff hitter, but he either hit his way towards the bottom of the order (2011) or got hurt (2012). Given the team's expectations and the other players on the roster, he was going to have to rake right away to remain in the leadoff spot and that just didn't happen.
Things are different this season, however. Derek Jeter's ankle injury caused his to miss Opening Day and his setback will keep him on the shelf through the All-Star break. Ichiro Suzuki didn't hit a lick during the first three weeks of the season, so Joe Girardi really didn't have another legitimate leadoff option on the roster. Gardner was given the leadoff spot almost by default, and after a slow first week he's turned things around and proven to be an asset atop the lineup.
"Any time you get off to a slow start, you look to get it going. I felt like I swung the bat pretty well in Detroit, just didn't have anything to show for it," said Gardner to Mark Feinsand following the 4-for-5 day against the Indians that helped get him going in the right direction. His overall season line sits at an almost perfectly league average* .250/.322/.400 (99 wRC+) following a torrid .300/.368/.480 hot stretch since the start of that Cleveland series.
For the first time in his career, Gardner finally has a clear path to regular playing time as the team's leadoff hitter. He's been solid but there is definitely still some room for improvement, especially since he's seeing a career-low number of pitches in the strike zone (52.3%) while swinging at a career-high number of pitches out of the zone (25.6%). Swing rates stabilize rather quickly (takes only 50 plate appearances), so this isn't necessarily a sample size issue. Gardner has to get back to laying off pitches out of the zone like he has in the past. He's also stolen just one base through 19 games, and that needs to change in a hurry. I know stolen bases are down around the league, but he has to run. It's what he does.
Gardner is the only player on the Yankees who has played every inning of every game so far this season — Robinson Cano got the final two innings off during one of those blowout wins against the Indians — though earlier this week Girardi seemed to indicate his first day off could be coming soon. It won't be more than a routine day off though, a "maintenance day" to use a hockey term. Gardner is playing (and hitting!) against both righties and lefties, and he's finally starting to establish himself as the team's everyday leadoff hitter after being unable to seize the job in recent years.
* Gardner is hitting .250/.322/.400 and non-pitchers are hitting .252/.320/.403 across MLB. You can't get much closer than that.