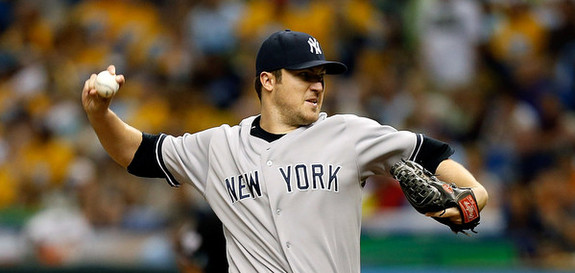 Poor Aprils are nothing new for Phil Hughes. The right-hander pitched to a 9.00 ERA in April 2008, a 13.94 ERA in April 2011, and a 7.88 ERA in April 2012. He went into last night's start against the Rays with a 6.95 ERA with a 5.36 FIP in 90.2 career innings during the season's first month. I guess it's just one of those things, maybe the Southern California guy doesn't like the cold weather or something.
Anyway, Hughes had an excuse for his slow to start to this season. He missed all of Spring Training with a bulging disk in his back and the Yankees activated him off the DL sooner than expected because the bullpen was a mess and David Phelps was needed in relief. In his first two starts, the 26-year-old Hughes looked very much like a pitcher who was shaking off the last bit of rust at the end of camp. The result was nine runs in seven total innings, plus two losses in the standings.
Phil's last two starts have been much, much better. Two runs in seven innings against the Diamondbacks last week, then another two runs in seven innings against the division rival Rays last night. In those 14 innings he allowed 12 hits (two solo homers) and two walks while striking out a dozen. Solid but not spectacular, similar to his performance from mid-May to mid-September last year. As I mentioned in the game recap last night, Hughes pounded the zone against Tampa — first pitch strikes to 24 of 27 (!) batters faced, 78 of 109 total pitches for strikes (72%) — and that's encouraging.
The obvious answer for the recent turnaround is simply rounding into game shape after the injury-interrupted Spring Training. Hughes did all his preparation work in simulated games and minor league contests, so he didn't face any big leaguers or throw with any fans in the stands. nothing like that. Hardly ideal conditions really, but the back issue forced the team's hand. For what it's worth, Phil made no excuses about his slow start and said he was ready to go when the team stuck him in the rotation sooner than expected.
"I wouldn't have come up in Detroit if they didn't feel like I was ready," said Hughes to Mark Feinsand following last night's game. "I certainly feel like I've made positive steps forward since then. I was ready then, I just didn't execute that well against Detroit and obviously terribly against Baltimore … These games count whether you got a full Spring Training or not. The first two were tough, the next two were better. Hopefully that trend continues."
This season is a big one in a lot of ways for Hughes. The elephant in the room is him impending free agency, as his performance in the coming months will dictate whether he gets a decent contract or really breaks the bank. The team also needs him to pitch well every time out because they can't lean on their offense as they have in the past, especially against left-handers. Not that this April has been great overall, but another truly awful showing in the season's first month would have hurt both his free agent stock and the team's place in the standings.
I don't think Yankees fans are ever going to be able to separate the reality of what Hughes has become from the disappointment of what he was supposed to be, but he's settled in as more than serviceable number four starter in recent years. Someone who will occasionally flash brilliance while generating his fair share of frustration. He shook off those dreadful first two starts to turn in two really strong outings in the last week, and that's the kind of stuff that can get hopes up. Phil has taken some positive steps forward lately, but the Yankees don't need him to emerge as an ace. Those days are long gone. They just need him to give them enough of a chance to win every give days, and right now that's exactly what he's doing.