The season is young, but that was definitely the most satisfying win of 2013 in my opinion. Two comebacks, a ninth inning rally to win, a strong performance from the starter … that's as good as it gets right there. The Yankees squeaked by the Rays by the score of 4-3.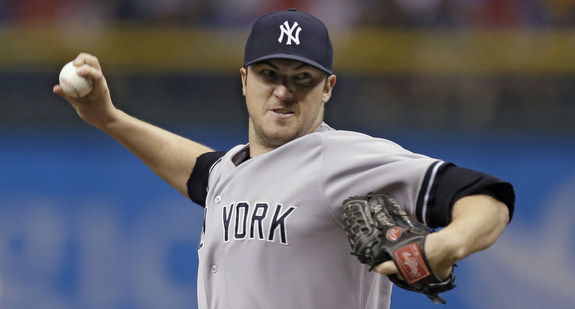 One And Not Done
A 32-pitch first inning usually isn't a good sign, but luckily that was not the case on Tuesday. Phil Hughes labored through the opening frame as the Tampa batters fouled off 15 total pitches (ten with two strikes) and had runners at second and third with no outs, but he escaped the jam allowing just one run on a sacrifice fly before settling down over the next six innings. Only three of the next 20 batters the right-hander faced managed to reach base.
I thought the most impressive part of Phil's night was the way he just brutally pounded the strike zone. He threw a first pitch strike to the first 15 men he faced and to 24 of 27 (!) batters faced overall. Thirteen of those 27 batters saw a 0-2 count. Seventy-eight of 109 pitches were strikes (71.6%). PitchFX says Hughes averaged 93.0 mph and topped out at 94.6 mph with his fastball, so he was pumping some gas in there. Tampa's batters swung and missed eleven times overall, including five times at that little baby slider he's throwing. His only mistakes were the two leadoff walks — both came around to score — but otherwise I thought Phil was really good. Love the aggressiveness.
The Comebacks
It's no secret the Yankees struggle against left-handers, and twice on Tuesday they found themselves down a run with David Price on the mound. The first time they tied the game came on Vernon Wells' fourth inning single, but that inning could have been a lot bigger. They had men on the corners with no outs before the single and men on first and second with no outs after the single, but Ben Francisco (fly out) and Lyle Overbay (double play) snuffed that one out. That sucked.
The second game-tying rally came four innings later and it was basically the same situation, men on the corners with no outs. Ichiro Suzuki deftly advanced to third on Jayson Nix's dinky little ground ball single through the left side to set things up. He was running on the play — I assume it was a stolen base attempt and not a hit-and-run — and just kept going. Very heads up. Gardner tied the game with a first pitch ground out to second, but again the Yankees couldn't capitalize any further. Tying the game is great, but they could have done a little more.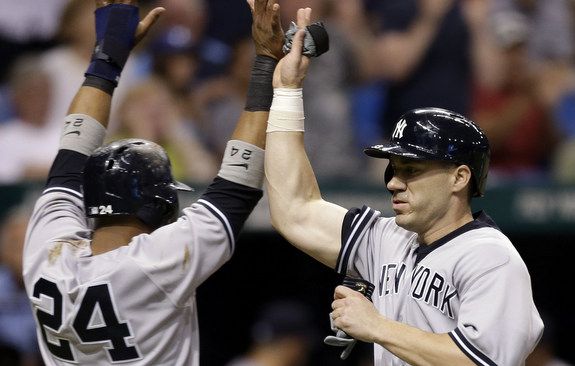 And The Yankees Take The Lead
Price was still on the mound come the ninth inning, but Robinson Cano forced him out of the game by ending a seven-pitch at-bat with a leadoff single to left. In came closer Fernando Rodney, but his first move was to intentionally walk pinch-hitter Travis Hafner. I always worry about pitchers losing the plate after they intentionally walk a batter, and sure enough Overbay took four balls to load the bases as the next batter. It was a tough at-bat though, Rodney wasn't exactly wild.
This is where things got both interesting and annoying. Joe Girardi elected to stick with backup catcher Chris Stewart with the bases loaded and one out, skipping over an obvious pinch-hitter in Brennan Boesch. Stewart popped up into foul territory on the second pitch and suddenly the rally was on the verge of being squandered. Instead, Ichiro turned on a first pitch fastball that PitchFX measured at 99.6 mph (!) for a two-run single to center. We saw Ichiro swing at a first pitch fastball following two bases loaded walks in Toronto, presumably because he was hunting a first pitch fastball, and this time he managed to win the game with a similar approach. Pretty awesome.
Leftovers
Mariano Rivera's first pitch of the ninth was hit deep into the stands for a solo homer by Evan Longoria, but he settled down and retired the next three men he faced for the save. David Robertson was especially filthy in the eighth, striking out two and getting some silly swings on his curveball. He was pretty dominant and it was good to see him bounceback strong after blowing the lead against the Blue Jays last time out.
Cano, Ichiro, and Nix all had two hits while Nunez, Wells, and Stewart chipped in one apiece. They were all singles, the Yankees didn't have a single extra-base hit on the night. The only walks went to Hafner and Overbay in that ninth inning rally. Despite their struggles against lefties, Price didn't really settle down until the sixth inning, when he started a stretch of eight in a row retired.
Know what I loved? Eduardo Nunez stole second base in the first inning after singling with one out. It wasn't the steal itself that I loved, it was that he didn't mess around and he ran on the first pitch, getting to second quickly and giving the middle of the order plenty of opportunities to drive him in. They didn't score that inning, but still. Brett Gardner could learn a thing or two from Nunez, he never seems to run early in the count.
The win is New York's third at Tropicana Field since July 2011, a span of 15 games. That's … bad.
Box Score, WPA Graph & Standings
MLB.com has the box score and video highlights, FanGraphs some other stats, and ESPN the updated standings. If you're monitoring the standings on a day-to-day basis this year in the season, just stop. It's way too early for that. Seriously.

Source: FanGraphs
Up Next
Rubber game on Wednesday night, when Andy Pettitte will square off against Alex Cobb. The most important thing: Mr. Cobb is a right-hander. Hooray for that.