I feel like games against the Astros should be a little easier than this. The Yankees labored to a 7-4 win on Tuesday night following Monday's shellacking, but a win is a win.
Kuroda Walks A Tight Rope
Had he been facing a better offensive team that the Astros, I'm not so sure Hiroki Kuroda gets through four full innings in this game. He was very rough early in the game, putting a man on third base in each of the first three innings while workings at a snail's pace. Everything was up in the zone, nothing was going where it was supposed to go … it was pretty bad. And yet, Kuroda managed seven scoreless frames on 108 total pitches with a season-high eight strikeouts. He also walked a season-high four.
The key for Kuroda appeared to be his slider, which he started to use heavily around the fourth inning. After putting seven men on-base during the first three innings, he allowed just one base-runner through the next four frames. He retired 15 of the final 16 batters he faced and the final nine overall. By no means was it pretty, but seven scoreless is seven scoreless. I'll take it every time out no matter how stressful.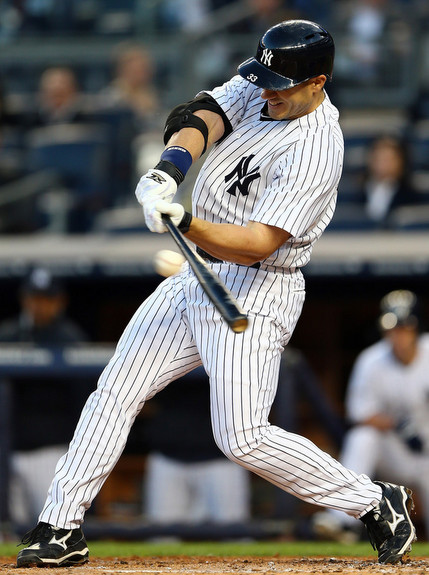 Four Crummy Runs
New York's first four runs all came on crappy little scoring plays. I would be annoyed if the other team scored four runs like that against the Yankees. The first run came on Travis Hafner's single to left, which Brandon Barnes trapped rather than caught. The second run scored when Hafner grounded a single to the shortstop side of second base while Houston had the shift on. The third run scored when Brennan Boesch beat out an inning-ending double play by about a quarter of a step. The fourth scored when Jayson Nix reached on an infield single because the shortstop muffed a hard-hit grounder. They all count, but geez. Let's not call them aesthetically pleasing runs.
Those four runs stood up for the first seven innings before the Yankees blew things open in the eighth, getting a cheap Yankee Stadium solo homer from Lyle Overbay and run-scoring singles from Chris Stewart and Hafner. Stewart's was a solid line drive to center while Pronk's was a bloop job to shallow left. There was nothing funny about those plays, no traps in the outfield or muffed ground balls. Conventional run-scoring plays.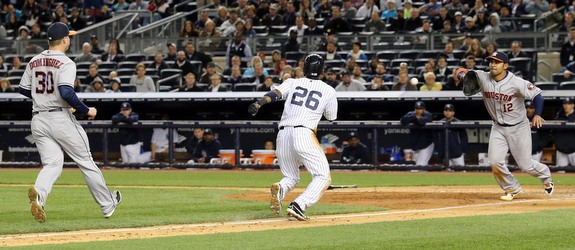 Leftovers
A few hours after I said Eduardo Nunez needed to give the team more on offense, he went 3-for-4 with a pair of hustle doubles. It would be awesome if he started to chip in a little more from the bottom of the lineup. Ichiro Suzuki (three), Robinson Cano (two), Hafner (three), and Stewart (two) all had multiple singles. Nix had his infield single, Overbay the homer, Hafner an intentional walk, and Brett Gardner an unintentional walk to round out the offense. Ichiro and Gardner stole bases.
David Robertson allowed a two-run homer to Chris Carter in the eighth, which temporarily made it a two-run game before the offense tacked a few insurance runs on a half-inning later. Shawn Kelley allowed two runs on three hits in the ninth inning before giving way to Mariano Rivera, who recorded the final out without incident. Not exactly a banner night for the bullpen, but at least the offense gave them some breathing room.
Box Score, WPA Graph & Standings
MLB.com has the box score and video highlights, FanGraphs the nerdy stuff, and ESPN the updated standings.

Source: FanGraphs
Up Next
The rubber game of this three-game set will be played on Wednesday night, when David Phelps makes his first start of the season in place of the injured Ivan Nova. Veteran left-hander Erik Bedard will be on the bump for the Astros. Check out RAB Tickets for some last minute ticket deals.