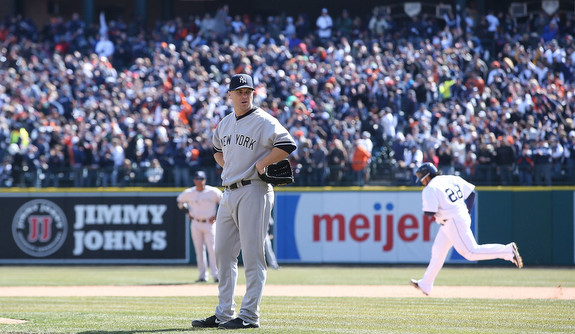 Outside of a short stretch last summer when the team was dealing with injuries, the Yankees have always boasted a strong and deep bullpen during the Joe Girardi era. Part of that is Girardi's willingness to spread the workload around and keep guys fresh, and part of it is the front office's shift away from expensive free agent relievers (Rafael Soriano notwithstanding) in favor of an abundance of low cost arms who miss bats. It's easier to dump a cheap bad reliever than it is an expensive one.
So far this season, with an assist to some short outings from the rotation, the middle of the Yankees bullpen looks like a real Achilles heel that could be exposed in close games. Yesterday's three-reliever, eight-base runner, three-run, 3.2-inning effort was the latest clunker from a relief corps that has allowed 21 runs and 52 base runners in 25.2 innings during the first six games. I think it goes without saying that the numbers are even worse when you remove Mariano Rivera and David Robertson from the equation.
The Yankees have already made one bullpen adjustment this year, shifting David Phelps into a full-time relief role in place of Cody Eppley, who has been getting knocked around since camp opened. Adam Warren's presence as the long-man — he allowed one run in 5.1 innings in relief six days ago, his only appearance of the year so far — potentially frees up Phelps for middle relief, where he could even be a multi-inning guy. That sounds wonderful in theory, but Girardi has been running things for six years now and outside of 2009 Al Aceves, he's shown little inclination towards using a reliever in that way.
The good news is the Yankees have proven to be very adept at rebuilding bullpens on the fly. They've done it pretty much every year during the Girardi era — the bullpen at the start of the season has never looked like the one they've taken into the postseason. Pieces like Shawn Kelley, Warren, and Phelps can go to the minors without having to clear waivers while Boone Logan and Joba Chamberlain have earned a little more rope. Joba can be maddening as hell, but there's no doubt he can be one of the three best relievers on the team when he's not pitching like a knucklehead.
Among the bullpen options in Triple-A are righties Mark Montgomery, Preston Claiborne, Jim Miller, and Sam Demel as well as southpaws Juan Cedeno and Josh Spence. None of those guys are on the 40-man roster, so something would have to give to get them in the big league bullpen. I don't think Vidal Nuno or Brett Marshall should be ruled out as bullpen options either (especially the former), and you could argue the same is true for Dellin Betances. Point is, there are some internal options to cycle through before a trade(s) becomes necessary.
It would be nice if the Yankees had David Aardsma or (the currently injured) Clay Rapada still available, but the 40-man roster crunch was rather severe and it was either going to be a pair of 30-something relievers or a pair of 20-something kids (Melky Mesa? Corban Joseph? Zoilo Almonte?) who might be able to help the team in the long-ish term. I'm not sure they made the wrong decision there despite the obvious bullpen need. Considering both Aardsma and Rapada cleared waivers despite mid-six-figure salaries, it's clear other teams didn't value them highly either.
The season is still young and it's not time to press the bullpen panic button just yet, but it's clear the middle relief guys need to do a better job going forward. In fact, the best possible thing that could happen to the bullpen right now is the rotation finding its groove and providing more length going forward. I think Kelley specifically would benefit a ton from being a true one-inning guy rather than being counted on for multiple innings every time out because the starter struggled to get through five. The pitching staff as a whole has underperformed in the last week, but middle relief tends to be much easier to adjust on the fly than the rotation or late-inning relievers. It's just a question of how long until some adjustments are made.