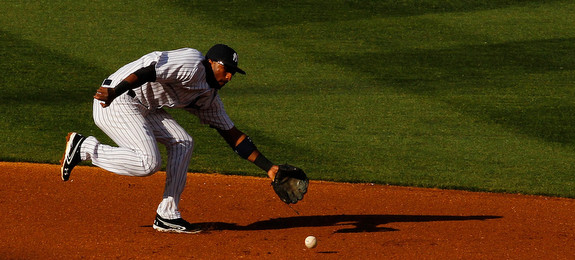 This season is the opportunity of  a lifetime for Eduardo Nunez. The 25-year-old is getting a chance to play shortstop on an everyday basis thanks to Derek Jeter's ankle surgery and subsequent setback, and he's going to continue to play the position regularly because the Cap'n isn't due to return until after the All-Star break. It sure doesn't seem like there is a trade in the works to acquire another shortstop either.
The biggest question about Nunez coming into the year was his defense, especially his throwing. His throws were strong but far too often very wild, so much so that the Yankees had to send him to Triple-A last May to sort things out. That demotion may have saved the team a couple hundred grand next year, but that's besides the point. The club penciled Nunez in as the everyday shortstop during Jeter's absence this year and that was a very, very risky proposition.
To date, Eduardo's defense has mostly been a non-issue. He's committed three errors in 22 games and 178 innings at shortstop, and only one of the three was a throwing error. That came over the weekend when a throw pulled first baseman Lyle Overbay off the bag just a bit. Nunez worked with first base coach/infield instructor Mick Kelleher to shorten his throwing motion in camp and the results have been overwhelmingly positive so far. I think we all still get nervous when a ball is hit his way, but give Eduardo credit. He worked hard and has greatly improved his defense, particularly his throws.
Of course, defense is only half the battle. Maybe less depending on your point of view. Offensive expectations certainly weren't high coming into 2013, but Nunez hasn't hit a lick in the early going. He comes into today riding an ugly 4-for-36 (.111) streak, which has dropped his overall season batting line to .169/.273/.185 (32 wRC+) in 79 plate appearances. No, it's not a huge sample nor definitive evidence of how he will hit going forward, but Nunez has been awful at the plate even considering the low offensive standard for the position (87 wRC+ league average at shortstop). There's no argument to be made otherwise.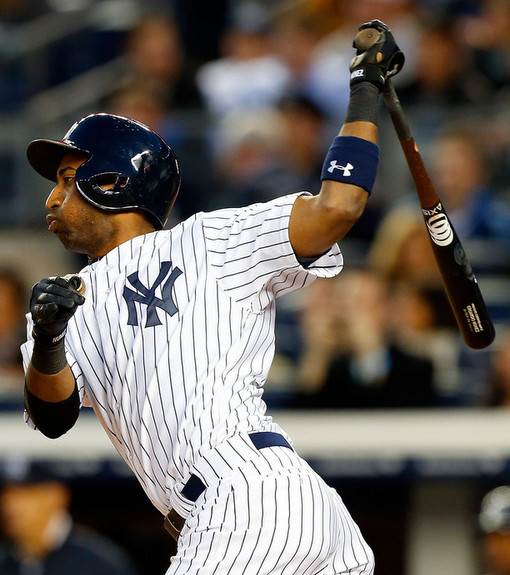 Because he doesn't offer much power (career .100 ISO) or much patience (career 6.7 BB%), Nunez's entire offensive game is built around contact and speed. He's a (very) poor man's Ichiro Suzuki, someone who just puts the ball in play, runs, and hopes for the best. While hitting .272/.318/.384 (88 wRC+) in 491 plate appearances from 2010-2012, Nunez posted a 10.4% strikeout rate and an 88.2% contact rate. Those are both far better than average. So far this year he's sitting on a 17.3% strikeout rate and an 83.3% contact rate, which are still better than the league average. Just a touch better though. When it comes to pitches in the strike zone, Nunez is making contact on 88.0% of his swings in 2013 compared to 92.5% from 2010-2012.
Contact and swing rates — his swing rates on pitches both in and out of the zone haven't changed much this year — stabilize relatively quickly, so this isn't necessarily something that will simply revert back to his career averages over time. Nunez is hitting way more fly balls (42.6% in 2013, 34.5% from 2010-2012) and fewer ground balls (40.7%, 47.4%) this year, which is the exact opposite of what you want to see from a speed player. Fly balls turn into outs more easily than grounders, plus they completely eliminate the speed aspect. There's no pressure on the infielders to make a play quickly, stuff like that. Yes, his .204 BABIP this year is way low for any player, especially one who came into the year with a .291 career mark, but the reduced contact and ground balls rates indicate the problem is something more than dumb luck.
Hitting coach Kevin Long has reportedly worked with Nunez on his balance at the plate recently, specifically by widening his base and eliminating some of his stride. It goes without saying that balance is important, especially for a contact guy who needs to be short to the ball. Eduardo should see his numbers improve in part due to simple BABIP correction, but that alone won't turn him into the average or even slightly-below-average hitter the Yankees need him to be. Maybe Nunez is being exposed with regular playing time or maybe he's just in an early-season funk, but his production has been a drain on the offense from the bottom of the lineup. If he doesn't show improvement in the coming weeks, the Yankees are going to have to consider finding a replacement.