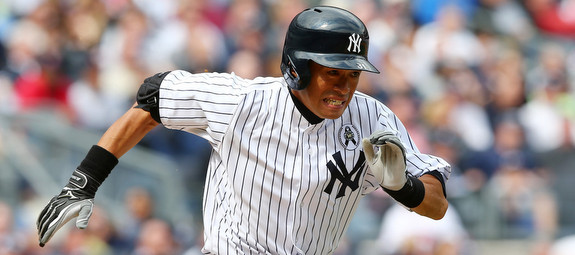 The only way to start a post like this is with a standard "it's incredibly early in the season" disclaimer. Two games tell us so very little in the grand scheme of things — we would barely pay any attention to a pair of back-to-back losses in June or July — but because they happened at the start of the year it's very easy to look too deep into things. We're baseball starved and we want to see things that aren't there. It's only natural.
That said, the Yankees have had a problem on offense in their first two games. We knew the lineup wouldn't be as potent as it has been in the past coming into the year, and nothing that's happened the last three days makes me think otherwise. Robinson Cano has one single in eight plate appearances but that will change, he's driven a number of balls to the outfield that were reeled in by nice defensive plays. Both Vernon Wells and Kevin Youkilis have shown promising signs and Travis Hafner has a hit in each game, so let's cross our fingers and hope he stays healthy.
The lineup spots that have really killed the Yankees in these last two games are the 9-1-2 spots, the third of the lineup before Cano and the rest of the middle of the order bats. Here's what that threesome of hitters has done in the first two games…
Monday: 2-for-11, 2 BB, 1 K
Wednesday: 0-for-12, 1 BB, 3 K
Total: 2-for-23 (.087), 3 BB (.192 OBP), 4 K
Yeah, that's not going to cut it. I guess the good news is that those three lineup spots have worked the count well — 109 pitches in 26 plate appearances, or 4.2 P/PA — but that's a small consolation prize. I mean, I generally consider it a win when bad hitters see a bunch of pitches and work an at-bat, but that was back in the days when the Yankees had a deep lineup and one black hole wasn't a problem. These days they need some actual production, and a sub-.200 (!) OBP from the three guys hitting in front of Cano won't cut it over any length of games.
Thankfully, this is just two games. Brett Gardner won't have many 0-for-5s like he did yesterday and Eduardo Nunez is unlikely to go 0-for-4 with three strikeouts from the two-hole like he did on Monday very often. The schedule suggests the Yankees will see a ton of right-handed starters over the next two weeks or so, meaning Gardner and Ichiro Suzuki will have an opportunity to settle in and have the platoon advantage for the while. Hopefully that happens. It's not a guarantee but history suggests it will.
The Bombers had an awful lot of trouble scoring runs these last two games (at least until Wells hit that garbage time three-run homer last night) and that woeful production from the 9-1-2 hitters is a big reason why. If Cano and Youkilis aren't getting any opportunities to drive in runs, the Yankees won't score. This isn't a team that can generate offense from the 7-8-9 spots anymore. Hopefully Gardner & Co. get this stuff straightened out and soon, the Yankees will have a real hard time pushing runs across if they don't.