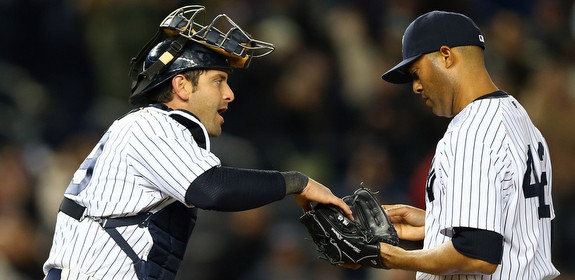 After the Yankees allowed Russell Martin to leave as a free agent this winter, they made it clear they would go with internal options behind the plate. The free agent and trade markets didn't offer a ton of catching solutions anyway, but going with some combination of Chris Stewart, Frankie Cervelli, and Austin Romine behind the plate was a very sketchy proposition. It became obvious Romine would open the season in Triple-A as Spring Training progressed while the other two shared catching duties in the Bronx.
"For the first month it will be somewhat of a process figuring out how you are going to do it," said Joe Girardi to George King on Opening Day when asked about how he would handle his catching situation. "It's something I thought about the last three or four days and talked to my coaches about it. Right now it's going to be a fairly even split and go from there."
That "fairly even split" has already disappeared two weeks into the regular season. The 27-year-old Cervelli has started nine of the team's eleven games so far, including all three against the division rival Orioles this weekend. That includes a day game after a night game on Saturday. Stewart, 31, was scheduled to start one of the postponed games against the Indians last week, but the Yankees used the rainout as an opportunity to essentially skip his spot and continue to keep him on the bench.
Of course, the reason Cervelli has seized the starting catching job so early in the season is his bat. He's mashed in those nine starts, going 9-for-25 (.360) with seven walks (.500 OBP) and one strikeout (!) while averaging 4.13 pitches per plate appearance. It's tough to take that kind of production out of the lineup given how poorly the bottom of the batting order has performed in general — the seven through nine spots combined for a weak .261/.314/.378 line heading into yesterday's game, and that's including Frankie.
Cervelli (and Stewart for that matter) hasn't really stood out defensively in the early going, but it has only been nine games. He hasn't had to use his much-improved throwing arm because opponents have only attempted one stolen base in his nine games — Cervelli threw out Prince Fielder of all people last week — though I guess that could be a reputation thing. Opponents know his throwing has improved and aren't even bothering to attempt a stolen base, something like that. Who knows. Frankie has allowed three balls to get by him in 72 innings behind the plate, but all three are wild pitches.
"Right now I feel I can catch every day in the Major Leagues,'' said Cervelli to King at the end of Spring Training. "It's not in my mind, but I'll let them decide. I have to talk with my actions and my game. That's my dream, catch 150 games.''
Well, catching 150 games isn't going to happen no matter what Cervelli hits or however many would-be base-stealers he throws out. He's not a true talent 185 wRC+ hitter and at some point his offense will return to Earth, but Frankie has already managed to play his way into a clearly defined clearly starting catcher role. That is exactly what the Yankees needed to see early in the season not just given all their injuries, but also for their future behind the plate. One year after being demoted to Triple-A, Cervelli has a golden opportunity to make himself a fixture behind the plate going forward, and he's already starting to take advantage.