This was one of those games the Yankees really had no business winning. Diamondbacks left-hander Wade Miley kept them completely off balance for the first six innings, and his pitch count was so manageable that it looked like a complete-game shutout was a very real possibility. Instead, the Bombers mounted a late-inning comeback and walked away with a very satisfying 4-3 win.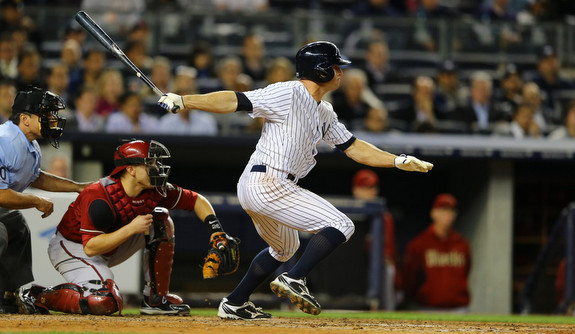 Bottom Of The Order Gets It Done
As I said, Miley was in complete control for most of the game. He held the Yankees to a single, a walk, and a hit-by-pitch in the first six innings, cruising into the seventh with his pitch count at 77. Kevin Youkilis made a first pitch out to start the seventh, but Ben Francisco started what proved to be the game-tying rally with a single down the line as the next batter. It was his first hit in pinstripes. Brennan Boesch followed a Frankie Cervelli strikeout with a bloop double to put men at second and third with two outs, setting things up for the bottom of the order. That's usually a bad thing.
Instead, it turned out to be a very good thing on Wednesday. Eduardo Nunez took three straight pitches out of the zone in a two-strike count to load the bases with a walk, and five pitches later Jayson Nix put the Yankees on the board by forcing in a run with a bases loaded walk. Just like that, after cruising for most of the night, Miley was done. In came left-hander Tony Sipp to face Brett Gardner, who laced a two-strike single to the opposite field to plate two runs to tie the game. Nunez is pretty fast, but I thought the ball was hit too hard and fielded too cleanly by left-fielder A.J. Pollock to send him home. Thankfully the throw was pretty damn poor and he was safe easily.
Boesch, Nunez, Nix, and Gardner all reached base with two outs to extend the inning and tie the game. That's the kind of stuff that won't happy very often, but when it does it usually contributes to a win. The Yankees needed something unexpected like that to wake up because Miley had been lulling them to sleep for the first six innings. It really did look like a lost cause of most of the night.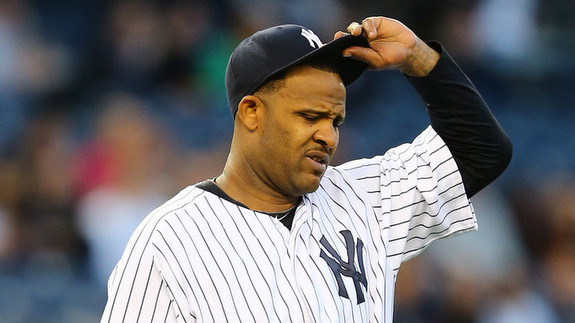 Eight Innings Later…
The night started rather ominously for CC Sabathia, who allowed a bloop double and a two-run homer within his first eleven pitches of the game. His command was wavering and he was running a lot of deep counts … it sure looked like he was having an off night. It happens, but it's never fun when it does.
Rather than wilt and put the team in a huge hole, Sabathia did what he always seems to do in this situations. He settled down and gave the offense a chance to get back into the game. After four of the first five men he faced reached base, just three hitters reached base against him in the next seven innings. Sabathia ended the night having thrown 108 pitches in eight innings, holding Arizona to just three runs. He did give up a lot of long fly ball outs, but he also struck out six, walked one, and threw a first pitch strike to 22 of 31 batters faced. Sabathia starts are like sex: even when they're bad, they're still pretty good.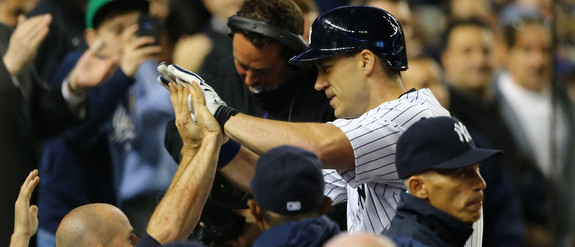 Pinch-Homer
I thought Travis Hafner should have pinch-hit for Vernon Wells in the seventh, when there were two outs and men on second and third. The D'Backs brought in side-winding right-hander Brad Ziegler and his massive platoon split — career .242 wOBA against from righties and .369 from lefties — so everything seemed setup for the lefty pinch-hitter. Go-ahead run at third, insurance run at second, late innings, platoon advantage against the pitcher, short porch in right … instead Joe Girardi stuck with Wells, who grounded out on the first pitch to end the inning and rally.
Hafner was saved for Francisco's spot, which came up with the bases empty and two outs in the following inning. Naturally, Pronk jumped all over a first pitch fastball from super-setup man David Hernandez and parked it in the right-center field seats for a go-ahead solo homer. It wasn't quite Raul Ibanez-esque (these games are slightly less stressful than the ones Ibanez saved last year), but it was a damn clutch homerun. Even though I would have rather seen him hit against the low-slot righty with two men on-base, saving Hafner for Francisco's spot worked out beautifully.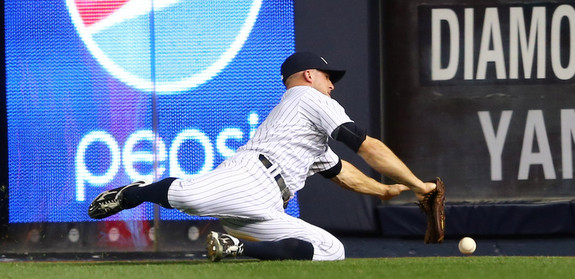 Leftovers
Mariano Rivera worked a perfect ninth for his fourth save of the season and second of the series. He's worked back-to-back nights now, so I wonder if Girardi will stay away from him on Thursday given his age and the knee surgery and all that. They've been taking it easier on Mo in recent years. If they do play it safe again, David Robertson figures to be the closer du jour.
The Yankees only had six hits as a team — doubles by Wells and Boesch, singles by Francisco and Gardner (two), and the homer by Pronk. Youkilis took a pitch to the elbow armor while Nunez and Nix (two) drew walks. That's all the offense right there. I guess timing is everything. Six of 12 batters reached base in the sixth and seventh innings while just four of 21 batters reached base in the other six offensive innings.
Gardner almost made an insane sliding catch in right-center field — close to right than center, really — but the ball was just out of his reach on the warning track. It fell for a Josh Wilson triple, and he later came around to score on a sac fly. Would have been some catch, Gardner ranged a long way. Very long way.
Box Score, WPA Graph & Standings
Now that is the kind of WPA graph I've been waiting to see since the season started. Good stuff. MLB.com has the box score and video highlights, FanGraphs some additional stats, and ESPN the updated standings.

Source: FanGraphs
Up Next
It's so nice not to have to rely on Phil Hughes to avoid the series loss, no? The Yankees will instead send the right-hander to the mound with a chance to complete the sweep on Thursday. He'll be opposed by left-hander Patrick Corbin. Check out RAB Tickets for some last minute deals.