The Yankees had won eleven consecutive Opening Days at home dating back to 1986 — an MLB record, believe it or not — but that streak is over following the Red Sox's dismantling of the Bombers on Monday. They out-hit, out-pitched, and out-defensed New York.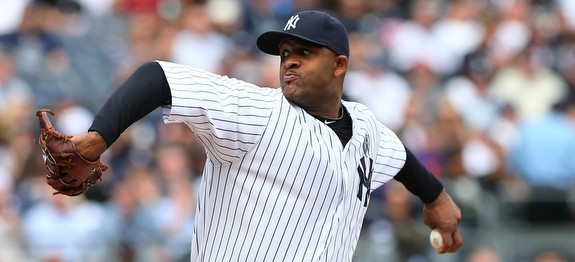 Sabathia Struggles On Opening Day
Outside of 2011 against the Tigers (two earned runs in six innings), CC Sabathia has struggled quite a bit on Opening Day as a Yankee. On Monday he allowed four second-inning runs to the Red Sox in his five-inning start, throwing 102 pitches and walking four. He walked four or more just twice last summer (consecutive starts in mid-May).
Outside of that four-run second inning — two walks, two infield singles, two ground balls singles through the hole — the most notable thing about Sabathia's start was that his velocity was down from last year. PitchFX says he averaged 89.9 mph and topped out at 91.7, compared to 92.5 and 94.1 on Opening Day last year, respectively. It's worth noting that was in a climate-controlled dome. I suppose this could be the result of his offseason elbow surgery and weirder than usual Spring Training, but it could also be a workload and age thing. Unsurprisingly, Sabathia is not concerned and said he just needs to pitch better going forward. Given his overall velocity drop last summer, it's worth monitoring. CC is at that age.
Anyway, the good news is that Sabathia's offspeed stuff, particularly his changeup against Boston's parade of right-handed hitters, was pretty sharp. He threw 24 of his 33 changeups for strikes and got eleven swings and misses with the pitch, which is pretty awesome. Given his historical struggles on Opening Day and in April in general, I'm willing to write this one off as a mulligan for Sabathia. Obviously he'll need to hit his midseason stride sooner rather than later this year.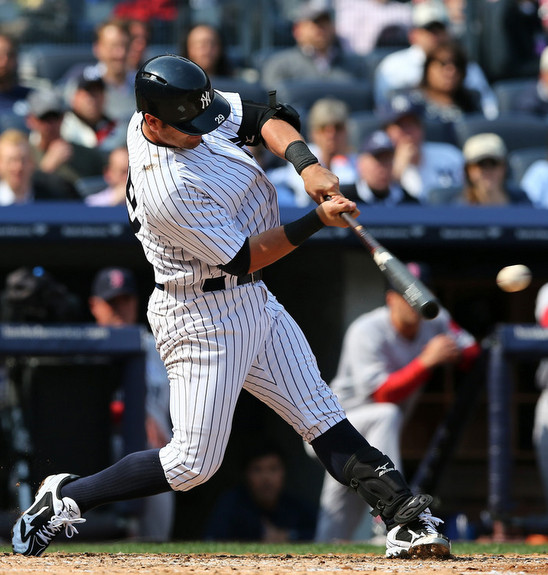 Frankie And The No-Shows
We all know the Yankees' offense isn't what it once was, but I don't think I was prepared for Frankie Cervelli to be the team's most productive hitter on Opening Day. His two-out, two-strike, bases loaded single (that landed on the foul line) in the fourth was responsible for the team's only runs on the afternoon. He drew a walk later on as well.
The rest of the lineup didn't do much of anything. Kevin Youkilis hit a double to start that two-run rally and Vernon Wells was robbed of a double by the third base ump, who incorrectly ruled his hard-hit ground ball foul. Replays showed it hopped over the bag before heading into foul territory. Brett Gardner beat out an infield single for the team's first hit of the year, Ichiro Suzuki and Travis Hafner slapped some dying quails into right, and Robinson Cano grounded a ball through the infield for a single.
The Yankees had their best chance to get back into the game in the seventh, when Andrew Miller charitably walked the first two batters he faced on eleven total pitches to bring the tying run to the plate. The next three hitters — the 2-3-4 hitters — all struck out to end the threat. That was more of a Red Sox bullpen thing than a bad hitting thing; Miller and Andrew Bailey were throwing some serious heat. Either way, it never felt like New York was on the verge of putting something together offensively.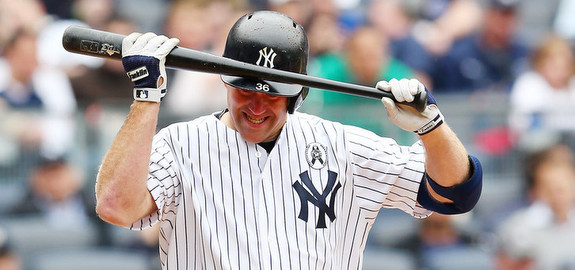 Leftovers
Cano, the team's most indispensable player, went 1-for-4 with two strikeouts, including one during that ill-fated seventh inning rally. One game doesn't tell us much, but Robbie saw a ton of breaking balls on the outside corner from the Red Sox. That's how teams figure to approach him this year given the lack of thump around him.
David Phelps, who is scheduled to start Saturday, was the first reliever out of the bullpen and the first batter he faced hit a leadoff triple. He escaped the jam — Jayson Nix helped him out with a great snag at third to get the runner at home on the contact play — and created another one the next inning before  needing a hand from Boone Logan. Despite pitching an inning and a third, Phelps remains on schedule to start Saturday. No big deal.
Shawn Kelley, who made the roster over David Aardsma because of his ability to throw multiple innings, threw one perfect inning with a strikeout. Joba Chamberlain allowed three runs in two-thirds of an inning and the staff as a whole walked eight batters against eight strikeouts. Considering the pitching is supposed to be the strength of the team, this was hardly one for the highlight reel.
On the bright side, the 49,514 fans in attendance set a new record for the largest Opening Day crowd in the relatively short history of the new Yankee Stadium. I guess that's good news.
Box Score, WPA Graph & Standings
MLB.com has the box score and video highlights, FanGraphs some additional stats, and ESPN the updated standings.

Source: FanGraphs
Up Next
The Yankees are off on Tuesday — the whole "in case Opening Day gets rained out" day off thing — but these same two teams resume the series on Wednesday night. Hiroki Kuroda and Clay Buchholz is your pitching matchup for game two of the season. If you want to attend, check out RAB Tickets.