It's only been two games, but the Yankees look about as flat and uninteresting as I can ever remember. It's basically everything that was said about the team during the offseason and Spring Training come to life — the old players look washed up and the young guys aren't really good enough. Two games into the season, the Yankees have scored six runs and surrendered 15.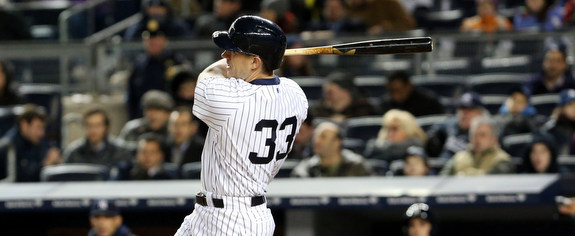 A Pronk's Bomber
The Yankees tried the small ball/extended rally thing on Opening Day and the result was a non-competitive showing on offense. On Wednesday they got back to doing what they do best, and that's clobbering the ball over the fence for homers. Travis Hafner (solo) and Vernon Wells (three-run) both hit their first homers in pinstripes, though in both cases they were too little too late. The Yankees were down six when Wells hit his off Aceves in the eighth.
Unlike the last … I dunno, 15 years or so, it doesn't feel like the Yankees can score runs at any time this year. The lineup just isn't good enough. In the past they had lineups that were deep with power and patience, but now they have a bunch of slap-hitters in front of Robinson Cano and reclamation projects in the middle of the order. They put the token runner on-base every so often but it never really feels like this lineup is a threat. I dunno, maybe it's just me.
Oh No #HIROK
Losing sucks and all that, but I would gladly trade a loss in the standings for a healthy Hiroki Kuroda. The right-hander looked a little shaky — command wasn't great but he was battling, as usual — before this happened leading off the second: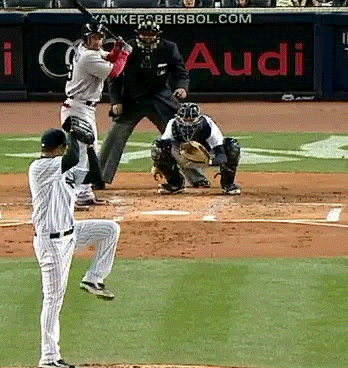 That ball hit Kuroda in the finger tips and forced him from the game with a contusion. He actually stayed in and faced a few more hitters after throwing some warm-up pitches for the trainer, but his command was completely gone and it was obvious something was wrong. Thankfully x-rays were negative and it's just a bruise.
Warren Saves The Day
One of the few good things to come out of Wednesday's loss was Adam Warren's long-relief performance, which if nothing else moved the game along quickly and got it over with at a reasonable time. He allowed two inherited runners to score but spared the rest of the bullpen by throwing 5.1 innings of one-run ball on 86 pitches. Warren allowed five hits and one walk against four strikeouts while showing off a real nice changeup. If Kuroda winds up missing a start due to the finger, Warren put himself in position to enter the rotation. He's been the bright spot of the two-game-old season.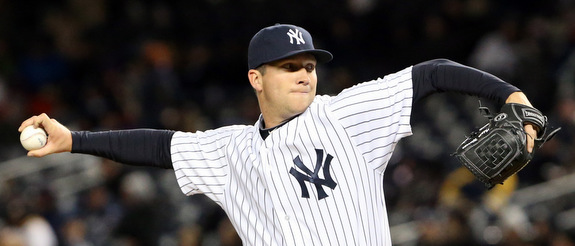 Leftovers
It's pretty silly that the Yankees cut David Aardsma because he couldn't throw multiple innings and instead kept Cody Eppley, who can't get lefties out. Sure enough, Joe Girardi allowed him to face multiple left-handed hitters on Wednesday and the result was multiple runs (three and two, respectively). The game was effectively over once Eppley worked his magic.
How about defense-first catcher Chris Stewart? He let an Eppley pitch get by him to advance a runner and also made an off-line throw to second on a stolen base attempt. To his credit, did he make a great catch along the third base dugout railing and nearly flipped over. That play earned him another ten weeks of playing time, I'm sure. Stewart went 0-for-2 before being lifted for a pinch-hitter and hit one ball to the warning track, which should really count as a homer for him.
Wells actually had three hits, believe it or not. Kevin Youkilis and Eduardo Nunez chipped in two apiece while Hafner and Lyle Overbay each had one hit. The top three hitters in the lineup went a combined 0-for-12 with a walk (Ichiro Suzuki) and a hit-by-pitch (Ben Francisco pinch-hitting for Ichiro). Nunez also drew a walk and committed an error, but it was a tough play. It's easy to pile on him for the defense but he deserves a pass for that one, it was a hard-hit short-hop grounder.
Didn't realize this the other day, but six players made their Yankees debut on Monday. That's the most since the franchise's very first game (!), and I'm talking about 1903 with the Highlanders. Yikes.
Box Score, WPA Graph & Standings
MLB.com has the box score and video highlights, FanGraphs the nerdy stats, and ESPN the updated standings.

Source: FanGraphs
Up Next
The Yankees will try to salvage this sorry excuse of a series on Thursday night, when Andy Pettitte gets the ball against new Red Sox right-hander Ryan Dempster. If you want to catch the game and yell at the players, check out RAB Tickets for some deals.