Winning two out of three each series is a great way to have a successful season, but losing the finale when you have a chance to sweep is always annoying. Feels like such a lost opportunity. Unfortunately the Yankees have made a bit of a habit of that of late, dropping the finale to the Diamondbacks last week and then doing the same against the Blue Jays on Sunday. Toronto walked away with an 8-4 win.

IvAAAn NovAAA
He needed the bullpen to allow some inherited runners to score, but Ivan Nova finished Sunday's game with a line that was very representative of the way he pitched: four runs on four hits and four walks in five innings. Unimpressive, basically. Nova allowed the leadoff man to reach base in five of the six innings he started — the leadoff man has reached in eleven of the 16 innings he's started this year — and threw only 39 of his 101 pitches from the windup. Thirteen of the 25 batters he faced saw a first pitch strike, including just one of the fist seven Blue Jays to bat. Typical, really.
Since last year's All-Star break, Nova has now pitched to a 6.87 ERA with a near-.900 OPS against while averaging just 5.1 innings per start. It's neither quantity nor quality at this point, he stinks when he's on the mound and taxes the bullpen every five days. So what are the Yankees going to do about it? Probably nothing. Neither Michael Pineda nor Chien-Ming Wang is big league ready and David Phelps is basically the bullpen version of Nova right now. I guess they could stick Adam Warren or Vidal Nuno in the rotation, but I don't see that happening. Nova can't continue to live in this fantasy world were results don't matter, however. At some point soon he either has to start pitching better or lose his rotation spot.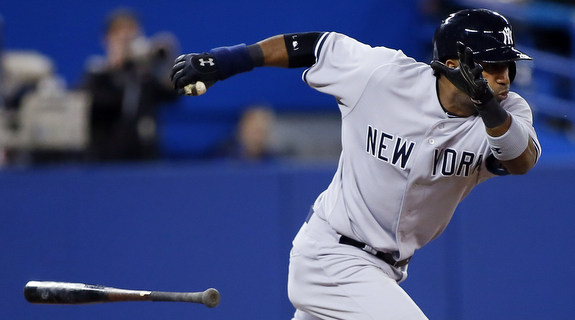 The Impatiently Patient Rally
The Blue Jays jumped out to a 2-0 lead after the first two innings, but the Yankees battled back in innings three through six and actually took the lead. Chris Stewart started the team's scoring with a solo homer (!), but it wasn't until the fifth inning that they really got to right-hander Josh Johnson.
The Yankees loaded the bases with one out on the strength of three singles before Travis Hafner, pretty much the best non-Robinson Cano hitter on the team, popped up into foul territory. It looked like the rally was going to be wasted, but instead Lyle Overbay and Eduardo Nunez drew back-to-back walks to force in both the game-tying and go-ahead runs. Johnson threw Overbay a full count breaking ball with two outs, which is … I don't get it.
So, anyway, with two runs already in and Johnson having thrown seven straight balls out of the strike zone, Ichiro Suzuki naturally swung at the first pitch. Why? Who the hell knows. I guess he was hunting a first pitch fastball, but the point is he swung at the first pitch after Johnson had already walked two with the bases loaded and thrown seven straight balls. Ichiro weakly grounded out to second and the inning was over. Odds are he would have made an out and ended the rally anyway given his performance this year, but that's a no-brainer "make him throw strike one before you swing" situation.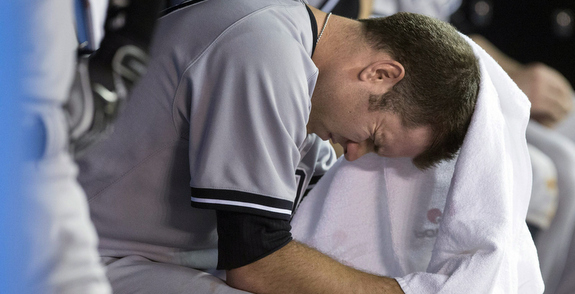 Death By Bullpen
As I mentioned earlier, the bullpen gets an assist for Nova's ugly line. Boone Logan came out of the bullpen and allowed a game-tying two-run single to the only man he faced (Colby Rasmus) before the oh so ordinary Phelps really let things get out of hand over the final few innings. He allowed a two-run homer to J.P. Arencibia and five runs overall — three of his own and the two inherited runners.
Phelps has now allowed a total of nine runs — seven of his own and two inherited runners — in five innings across his last two appearances. The bullpen as a whole has surrendered 14 total runs in its last 10.1 innings. Most of that is Phelps obviously, but that doesn't mean it's not an issue. It can't be Mariano Rivera and David Robertson and pray the starter goes deep.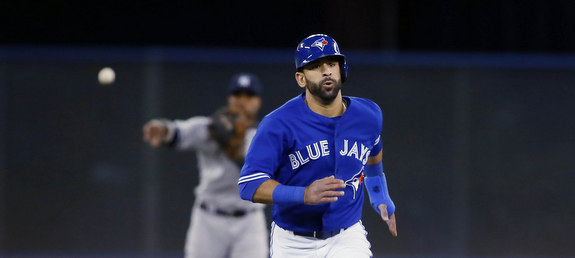 Leftovers
Hafner not only stole a base — the tenth of his career and first since 2010 — but he also laid down a bunt in an effort to beat the shift. It was a bad bunt and he was thrown out easily though, which isn't terribly surprising. Bunting is hard and these sluggers who get shifted against don't have much experience laying one day. Great idea in theory, not easy in practice.
Speaking of stolen bases, Brett Gardner finally stole his first of the season in game number 17. I get that you want to have men on base for Cano, but I don't think that should mean abandoning the steal all together. When you've got an easy to steal against battery — like Johnson and Arencibia in this game — Gardner needs to run wild, especially in the early innings. If they pitch around Cano, so be it. The more base runners the merrier.
The wrap-around 8-9-1-2-3 portion of the lineup went a combined 10-for-21 with a double and a homer. The other four lineup spots went 1-for-13, including 0-for-8 with runners in scoring position, and that's where the rallies went to die.
Vernon Wells wore out his former team this weekend, and in addition to two hits he also made a great jumping catch against the wall on Sunday. He grabbed the Edwin Encarnacion rocket and got the ball back to first in time to double off Jose Bautista. Have yourself a weekened, Verndog.
Box Score, WPA Graph & Standings
MLB.com has the box score and video highlights, FanGraphs the nerd score, and ESPN the updated standings.

Source: FanGraphs
Up Next
The Yankees are off to Tampa, their home away from home. CC Sabathia kicks off the three-game series against fellow left-hander Matt Moore on Monday night.