For a while there, it looked like the Yankees were in for their third straight come-from-behind win over the Diamondbacks. Instead, they only delayed the inevitable. New York dropped its first extra-innings game of the year 6-2 in 12 innings on Thursday.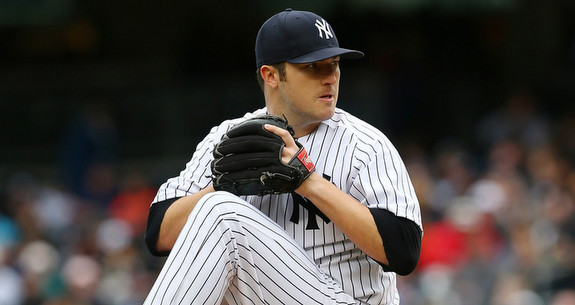 Philthy Phil Philanthropist
After two straight dud starts to open the season, Phil Hughes held Arizona to two runs in seven innings in the series finale. Both runs came on solo homers of course, it wouldn't be a Hughes start without some dingers, but that was it. He allowed six hits but he didn't walk anyone, and he struck out six. A whopping 75 of 109 pitches were strikes (69%), and outside of the homers, he only allowed one runner to make it as far as second base.
Two runs in seven innings is plenty good enough to win, but instead Phil exited the game in line for the loss. That part really isn't his fault though. I'll take this kind of outing another 28 times or so between now and October, it was pretty much the Hughes we saw after April last year. The homers are maddening as hell — both leadoff an inning — but they're just part of who he is at this point. As long as he continues to limit base-runners in front of the dingers, he'll be just fine. Good job in this one.
Can't Touch The Lefty
Left-hander Patrick Corbin looked like he was trying to finish what Wade Miley could not on Wednesday. The New York native wears #46 because he grew up idolizing Andy Pettitte, and he held Pettitte's team to two measly hits in seven innings of one-run ball. His seven strikeouts were one short of a career-high.
Outside of a sixth inning solo homer by Robinson Cano, the Yankees had no answer for the D'Backs left-hander. That has become a theme on the young season, getting shutdown by southpaws, but it's not terribly surprising when guys like Ben Francisco and Frankie Cervelli are hitting fifth and sixth. They just aren't middle of the order hitters at the big league level, yet there they were in prime spots for the New York freaking Yankees. To call the team's lineup against lefties feeble is an insult to feeble lineups everywhere. They're borderline non-competitive against southpaws until some of the injured guys, specifically Mark Teixeira, return.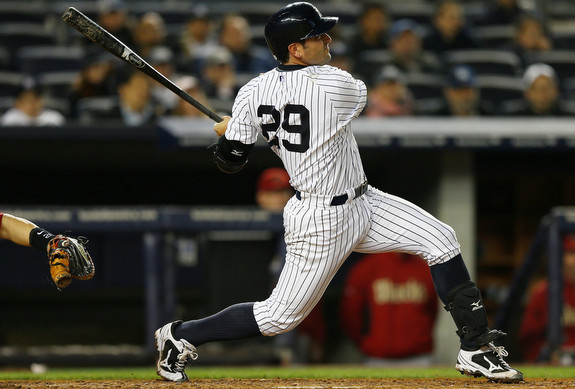 Cervelli Ties It
Can't say I was expecting Cervelli to hit a solo homer off J.J. Putz to tie the game with two strikes and one out in the ninth, but that's exactly what happened. The Arizona closer hung a cement-mix splitter and Frankie hit it right into the first row of the left field stands. If there is such a thing as a Yankee Stadium cheapie to left field, that was it. I'm not going to go as far as saying it was reminiscent of the 2001 World Series, but we've certainly seen the Yankees stage late-inning comebacks against the D'Backs before.
Can't Hold Out Any Longer
The Yankees bullpen had been on a pretty great streak coming into this game, having allowed zero runs in their previous 15 innings. That dates back to the first game of the Indians series. That can't last forever though, and the scoreless streak came to an end at 19 innings when David Phelps let things get out of hand in the 12th.
Phelps allowed a leadoff double in each of his two innings, but he was unable to escape the second jam like he did the first. Arizona loaded the bases with one out, then took the lead on Cody Ross' single before former Yankee Eric Chavez broke things open with a bases-clearing double. Phelps seems to have a knack for either pitching very well or very poorly. There's not much of a middle ground. This was one of the poor outings.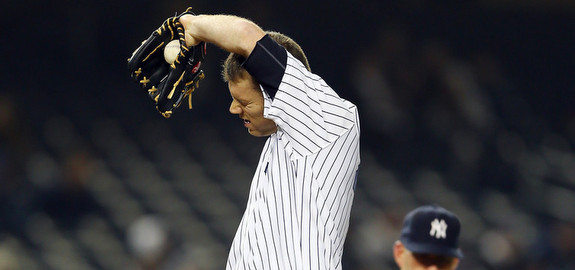 Leftovers
The Yankees had two prime opportunities to put runs on the board but were unable to capitalize both times. Uber-setup man David Hernandez loaded the bases with one out in the eighth, but both Cano and Kevin Youkilis struck out to end the jam. Cano actually swung at a pitch that hit him for strike three. Later on, the Yankees put the leadoff man on base against Heath Bell but were unable to score. Bell is awful and failing to score against him (in a small ballpark, no less), makes the loss well-earned in my book.
Cervelli had an interesting night aside from the game-tying homer — he committed not one but two errors on catcher's interference. He simply jumped the gun with his mitt and put it in the path of the hitter's swing. Frankie appeared to be in some pain after the first one, which came a half-inning before the homer. I guess his finger didn't hurt too much.
The 9-1-2 wrap-around portion of the lineup went a combined 1-for-14 with three walks, and nearly all of that came during the bases loaded failed rally in the eighth. Hey, the Yankees had the right guys up at the plate in that situation and just didn't score. No one to blame but themselves there.
No Yankee had more than one hit, and only Vernon Wells (two walks), Cano (homer and walk), and Francisco (single and walk) reached base twice. At one point Corbin retired 14 of 15 batters faced.
Box Score, WPA Graph & Standings
MLB.com has the box score and video highlights, FanGraphs some other stats, and ESPN the updated standings.

Source: FanGraphs
Up Next
The Yankees are off to Toronto for a three-game set with the new-look Blue Jays starting Friday night. Pettitte is scheduled to start the game after missing some time with back spasms, and he'll be opposed by Brandon Morrow.