The 2013 amateur draft will be held from June 6-8 this year, and between now and then I'm going to highlight some prospects individually rather than lump them together into larger posts.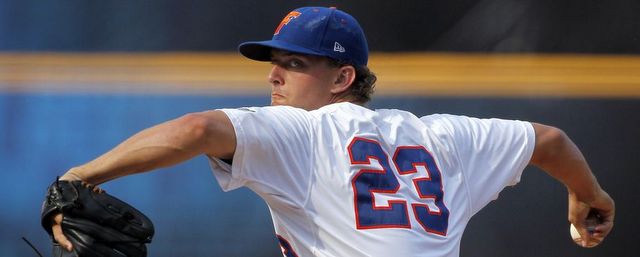 Jonathon Crawford | RHP
Background
Heavily recruited as an outfielder out of Okeechobee High School in Florida, Crawford wound up on the mound at Florida after declining to sign with the Marlins as a 42nd round pick in 2010. He's pitched to a 4.03 ERA with 64 strikeouts and 33 walks in 80.1 innings spread across 14 starts this year. In his first two years with the Gators, he managed a 3.18 ERA with 77 strikeouts and 25 walks in 82 innings.
Scouting Report
Crawford, who is listed at 6-foot-2 and 205 lbs., came into the spring as a potential top ten pick thanks to his power arsenal. His fastball has sat anywhere from 89-95 mph this year, though mostly at the higher end of that range in recent weeks. He was 93-96 and touching 99 regularly as a sophomore. A low-to-mid-80s slider with sharp bite is his top secondary offering, but he doesn't locate the pitch well enough consistently. His changeup remains a distant third offering. Crawford's delivery is a little rough thanks to an Aaron Crow-esque wrist wrap, a short stride, and a stiff landing. It hinders his command and leads to some projecting him as a reliever. There's isn't much video out there, but you catch a quick glance at him at 0:22 mark of this clip.
Miscellany
Baseball America and Keith Law (subs. req'd) ranked Crawford as the 24th and 46th best prospect in this year's draft in their latest rankings, respectively. Crawford has been trending upward in recent weeks and in a draft short on potential impact college pitching, his high-end arsenal and upside could land him in the first round despite the statistically meh year. The Yankees have three first round picks (26th, 32nd, 33rd) and are in a position to gamble on a huge yet risky arm like Crawford this spring.