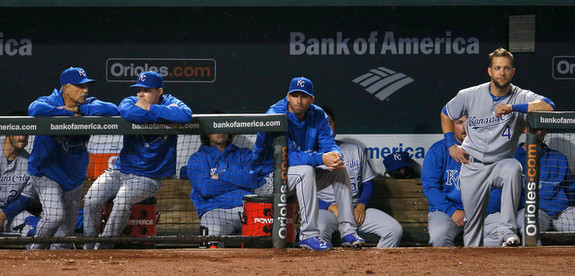 Kauffman Stadium hasn't been very kind to the Yankees over the last 12 months or so. Mariano Rivera suffered his season-ending knee injury in Kansas City last May, then Robinson Cano was booed basically off the field during the Homerun Derby in July. New York is 6-5 at Kauffman Stadium over the last three years.
What Have They Done Lately?
The Royals made some significant moves this past winter, and so far they are paying some very real dividends. Kansas City is 18-13 with a +18 run differential, landing them right behind the Tigers in the AL Central standings. They won last night to halt a three-game losing streak, and they're just 5-5 in their last ten games.
Offense
At 4.3 runs per game with a team 93 wRC+, the Royals are above-average in terms of runs per game but below average in terms of results at the plate. That means they've either been good or lucky (or both) with their timing and sequencing. Manager Ned Yost's team is perfectly healthy, at least on the position player side.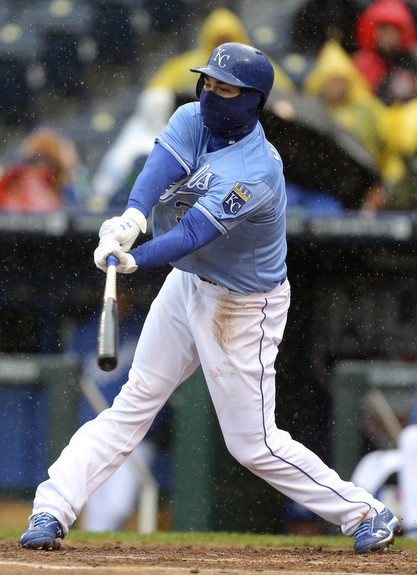 LF Alex Gordon (134 wRC+) has batted leadoff every game this year except for one, yesterday's win over the Orioles. He batted third in that game, and I don't know if that will be a regular thing going forward. Either way, he is their best hitter and all-around player. DH Billy Butler (109 wRC+) provides plenty of support, as has the surprisingly productive CF Lorenzo Cain (125 wRC+). 1B Eric Hosmer (95 wRC+) and 3B Mike Moustakas (81 wRC+) continue to be various levels of disappointing.
C Salvador Perez (81 wRC+) is off to a slow start, ditto SS Alcides Escobar (80 wRC+) and RF Jeff Francoeur (61 wRC+). 2B Chris Getz (42 wRC+) gets most of the playing time at second, though IF Miguel Tejada (128 wRC+ in limited time) and IF Elliott Johnson (91 wRC+) will see time at the position as well. The backup catcher is C George Kottaras (153 wRC+ in limited time), the backup outfielder OF Jarrod Dyson (84 wRC+). The Royals have hit the second fewest homers (22) but stolen the sixth most bases (24) in baseball this year, so they're a speed team.
Starting Pitching Matchups
Friday: RHP Phil Hughes vs. RHP Wade Davis
The Yankees are going to face three pitchers they are pretty familiar with this series. Davis, 27, spent the last four years with the division rival Rays, but he was sent to Kansas City in this winter's blockbuster trade. They moved him back to the rotation, and he's pitching almost exactly like he did as a starter from 2010-2011 (4.75 ERA and 4.43 FIP) rather than as a reliever last year. The peripheral stats — 7.42 K/9 (17.9 K%), 3.86 BB/9 (9.3 BB%), and 39.8% grounders — are solid but not spectacular. Davis is a different animal as a starter, sitting in the upper-80s/low-90s with his three fastballs (two-seamer, four-seamer, cutter) rather than the mid-90s he averaged out of the bullpen. A mid-80s changeup and low-80s curveballs are his top offspeed offerings. The Yankees have seen Davis a few times over the years, and for the most part they've handled him well when he's been in the rotation.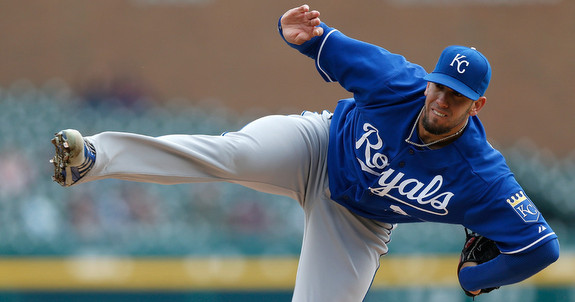 Saturday: LHP Andy Pettitte vs. RHP Jamie Shields
After spending parts of seven years in Tampa Bay, the 31-year-old Shields took his workhorse act to the Royals in an offseason trade. He's pitched very well so far (2.52 ERA and 2.62 FIP), with excellent strikeout (8.64 K/9 and 24.9 K%), walk (2.16 BB/9 and 6.2 BB%), and ground ball (47.3%) numbers. Shields remains a master at pitching backwards, using a low-80s curveball and upper-70s slider to set up three upper-80s/low-90s fastballs: two-seamer, four-seamer, and cutter. His put away pitch is that all-world changeup, which sits in the mid-80s and both drops off the table and fades away from lefties. The Yankees and Shields have plenty of history, so there are no surprises here. It'll be just like old times.
Sunday: RHP Hiroki Kuroda vs. RHP Ervin Santana
Santana, 30, went from leading the league in homers in 2012 to pitching like an ace in 2013. He owns a 2.36 ERA (3.06 FIP) with career-best walk (1.29 BB/9 and 3.6 BB%) and ground ball (44.8%) rates. His strikeout (7.50 K/9 and 20.8 K%) rate is his best in about five years as well. Santana hasn't changed his pitch selection or added velocity, so he still sits in the low-90s with his four-seamer while relying on a low-80s slider much more than a mid-80s changeup. He has made some minor adjustments to his delivery though, which has supposedly boosted his command. We'll get a look at it this weekend. Santana and the Yankees certainly know each other from those Yankees-Angels battles, so again, no surprise here.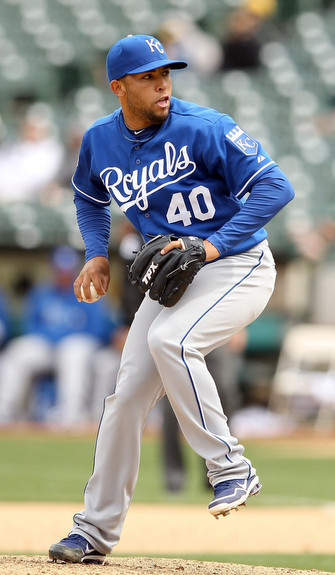 Bullpen Status
The bullpen was expected to be the strength of Yost's club, and sure enough they rank fifth in the game with a 3.33 reliever ERA (3.68 FIP). Closer RHP Greg Holland (1.57 FIP) has been awesome despite one or two rather spectacular meltdowns. Setup man RHP Kelvin Herrera (6.31 FIP) is killing my fantasy team by giving up homers left and right, so RHP Luke Hochevar (2.66 FIP) has been seeing some eight inning time.
Kansas City has two southpaws in specialist LHP Tim Collins (2.08 FIP) and multi-inning guy LHP Bruce Chen (1.61 FIP). Given how much the Yankees struggle against southpaws, I wouldn't be surprised if Chen comes in and dominates for three or four innings at some point this series. RHP Aaron Crow (3.84 FIP) and RHP J.C. Gutierrez (4.48 FIP) fill the final two bullpen spots. The common theme here is power — outside of Chen, all of these guys live in the mid-to-high-90s with their fastballs. They all should be fresh for today, they haven't work much recently.
The Yankees, meanwhile, are in a bit of a bullpen bind. Joe Girardi acknowledged yesterday that Mariano Rivera and David Robertson and both unlikely to be available today after throwing back-to-back days, and I assume the same is true for Preston Claiborne. That leaves Shawn Kelley and Boone Logan for the late innings tonight. Yikes. Check out our Bullpen Workload page for recent reliever usage details. As for a Royals blog worth your time, check out Royals Review.