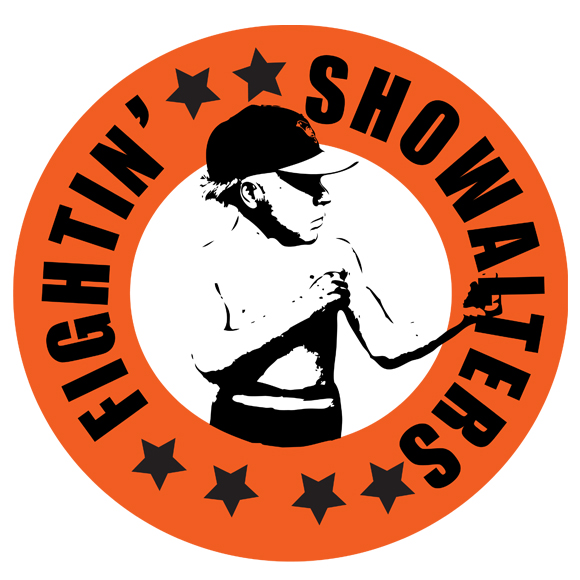 Once upon a time, mid-May games against the Orioles were relatively meaningless, at least in terms of the AL East race. Baltimore was irrelevant for more than a decade until last season's surprise 93-win effort, which forces us to take them seriously these days. Such is life.
What Have They Done Lately?
Quite a bit of losing, actually. The O's got swept by the Rays this weekend, and they've now lost five straight, six of seven, and seven of nine. The Yankees took two of three from Baltimore back in mid-April, their fourth series of the year. Buck Showalter's team is 23-20 with a +18 run differential, tied with Tampa for third place in the division.
Offense
Thanks to an average of 5.0 runs per game and a team 102 wRC+, the Orioles have one of the top offenses in the game. They rank sixth in homers (52) and third in steals (33) in all of baseball, so it's a diverse attack. B'more has a number of position players on the DL, including 2B Brian Roberts (150 wRC+), OF Nolan Reimold (49 wRC+), C Taylor Teagarden (-100 wRC+ in very limited time), and UTIL Wilson Betemit (has not played this year).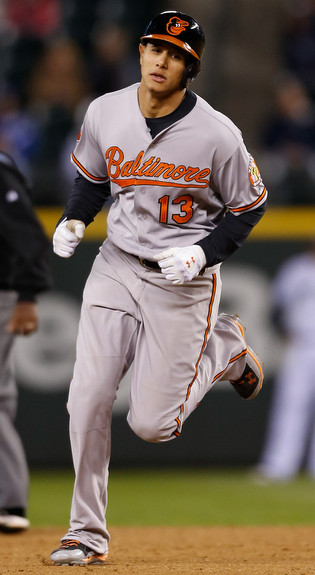 The top seven spots of Showalter's lineup usually do not change regardless of who is on the mound. LF Nate McLouth (114 wRC+) leads off, budding star 3B Manny Machado (138 wRC+) bats second, RF Nick Markakis (96 wRC+) bats third, CF Adam Jones (129 wRC+) cleans up, 1B Chris Davis (178 wRC+) bats fifth, C Matt Wieters (93 wRC+) bats sixth, and SS J.J. Hardy (80 wRC+) bats seventh. Pretty straight forward.
Baltimore has received some of the worst DH production in baseball (72 wRC+), and their latest attempt at a solution is IF Danny Valencia (1-for-3 in his debut yesterday). Former Yankee OF Chris Dickerson (118 wRC+ in limited time) and 1B/OF Steve Pearce (95 wRC+) rotate in as well. IF Yamaico Navarro (154 wRC+ in limited time) is getting a shot to place second everyday while IF Alexi Casilla (32 wRC+) backs him up. C Chris Snyder (8 wRC+ in very limited time) backs up Wieters. Those top seven spots of the lineup are the ones New York has to worry about, the rest of the hitters are trivial.
Starting Pitching Matchups
Monday: LHP CC Sabathia vs. RHP Freddy Garcia
The Embedded Yankee takes on the Yankees. The 36-year-old Garcia owns a 5.51 ERA (6.21 FIP) through three starts with Baltimore, and they limit him to only 75-80 pitches. Sweaty Freddy has missed no bats (3.31 K/9 and 9.1 K%) nor has he gotten a ton of grounders (40.0%), but he does limit walks (2.20 BB/9 and 6.1 BB%). Homers are an issue (2.20 HR/9 and 20.0% HR/FB), as always. As you know, Garcia is a soft-tossing kitchen sink guy, living in the mid-to-upper-80s with his sinker. An upper-70s splitter is his go-to pitch, though he'll also throw upper-70s sliders and changeups in addition to low-70s curveball. We've seen enough of Freddy these last two years to know what to expect.
Tuesday: RHP Phil Hughes vs. RHP Miguel Gonzalez
Gonzalez, 28, is currently on the DL with a blister on his thumb, but he threw a 55-pitch simulated game on Friday and is expected to be activated for this start. They could activate him for tonight's game, but apparently they're giving him an extra day. The minor league journeyman was not very good before the blister, pitching to a 4.58 ERA (5.34 FIP) in six starts. Obviously the blister and poor performance could be related. Gonzalez has seen his strikeout (5.60 K/9 and 14.6 K%) and walk (3.57 BB/9 and 9.3 BB%) numbers take a step back following his breakout 2012 campaign, plus his homer rate (1.53 HR/9 and 13.3$ HR/FB) has jumped despite an increase in ground balls (46.4%). Low-90s two- and four-seamers set up a knockout low-80s splitter-changeup hybrid that gave the Yankees fits last year. A mid-80s slider and upper-70s curveball round out his repertoire. Gonzalez held New York to three runs in six innings earlier this year after dominating them last year: 2.36 ERA (~3.05 FIP) with 28 strikeouts and six walks in four starts, including the ALDS.
Wednesday: RHP Hiroki Kuroda vs. RHP Jason Hammel
Hammel started on Opening Day for the Orioles following his strong but injury-shortened 2012 season, but he hasn't been able to repeat that success so far. The 30-year-old owns a 5.72 ERA (4.83 FIP) in nine starts this year, and his peripheral stats have declined across the board: 6.44 K/9 (15.7 K%), 3.58 BB/9 (8.7 BB%), 1.25 HR/9 (10.9% HR/FB), and 42.8% grounders. He looks more like the guy he was from 2008-2011 rather than the guy he was last summer. Hammel's pitch selection did change substantially when he got to Baltimore and he's stuck with his new low-90s two-seam fastball-heavy approach. He'll still throw a few low-to-mid-90s four-seamers. A mid-80s slider is his top secondary pitch, and he'll also mix in a mid-80s changeup and upper-70s curveball.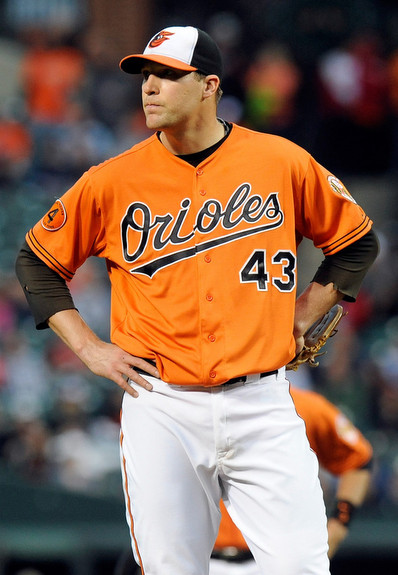 Bullpen Status
The Rays did the Yankees a solid by working the Orioles' bullpen pretty hard this weekend. Rule 5 Draft LHP T.J. McFarland (2.55 FIP) threw 2.1 innings and 43 pitches yesterday, taking him out of commission for at least one game and probably two. The fewer lefties at Showalter's disposal, the better. RHP Pedro Strop (4.71 FIP) also pitched yesterday and has appeared in three of the last five games.
Closer RHP Jim Johnson (3.82 FIP) threw 32 pitches and recorded one out while blowing the save on Saturday, his second blown save in as many appearances. He's not in danger of losing his job or anything, but he is in the middle of a rough stretch. Setup men RHP Darren O'Day (3.79 FIP) and LHP Brian Matusz (3.27 FIP) are hell on same-side hitters. RHP Tommy Hunter (4.36 FIP) is the multi-inning middle relief guy, but he threw 2.2 innings and 37 pitches on Saturday. Might not be available tonight. LHP Troy Patton (5.29 FIP) and long man RHP Jake Arrieta (4.45 FIP) round out the 13-man bullpen, which will likely be whittled down to 12 when Gonzalez is activated.
The Yankees were rained out on Sunday, so their bullpen is as fresh as can be this time of the season. Left-hander Vidal Nuno will be available in relief this series since his start in place of the injured Andy Pettitte has been pushed back. Check out our Bullpen Workload page for exact reliever usage details. Now that Camden Crazies is close to defunct, I guess Camden Chat is the best Orioles blog by default.