I think teams get a pretty good idea of what they have after three years, but the old saying says you need five years to evaluate a draft class. So, with the 2013 draft just two weeks away, it's time to take a look back at the Yankees' draft haul from June 2008. Unlike the 2007 draft, the team's 2008 draft has been sneaky productive despite a high-profile first round blunder.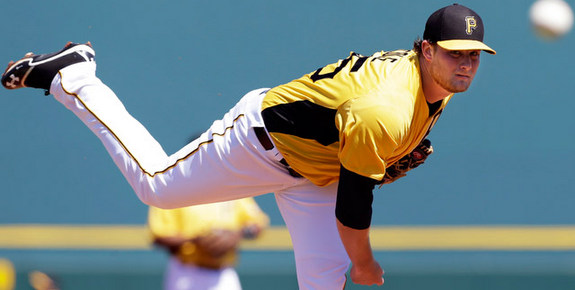 UCLA over NYY
Scouting director Damon Oppenheimer has been on the job since before the 2006 draft, and he has not drafted a single player better than RHP Gerrit Cole. Oppenheimer and the Yankees selected Cole with their first round pick back in 2008, making him the 28th overall selection. Keith Law (subs. req'd) and Baseball America ranked him as the tenth and 17th best prospect in the draft, respectively, but he slipped to New York due to signability concerns. Concerns that proved to be completely founded.
Despite declarations that he was a lifelong Yankees fan — and one very famous photo — Cole declined to sign with the team prior to the August 15th deadline and instead following through on his commitment to UCLA.
"We knew it was going to be a tough sign," said Brian Cashman to Tyler Kepner in 2011, "but we also were told in pre-draft meetings with the family that he was willing to play pro ball and forgo college. We rolled the dice and took our chances. Everybody has a right to change their mind … We were right on the [talent] evaluation. There's no doubt about that."
Oppenheimer confirmed the team was prepared to offer Cole a far-above-slot $4M bonus, but they wouldn't even listen to the offer. Cole wanted to attend UCLA, and it didn't hurt that his family is wealthy and the money wasn't truly life-changing. The Yankees lost out on their top pick, who went on to have three great years with the Bruins before being the first overall pick in the 2011 draft. The Pirates gave Cole an $8M bonus and he is now on the cusp of the big leagues. Before the season, Baseball America ranked him as the third best pitching prospect and sixth best overall prospect in the game.
I like to think that had the Yankees signed Cole, he would be in their rotation right now after debuting sometime during the 2011 season. I assume he would have been on the Phil Hughes timetable, meaning Low-A Charleston and High-A Tampa in year one, High-A Tampa and Double-A Trenton in year two, Triple-A Scranton and the show in year three. Cole did make major strides with his changeup at UCLA though, the pitch that made him the first overall pick two drafts ago, and there's no way to know if that would have happened had he signed. Either way, missing out on Cole was devastating.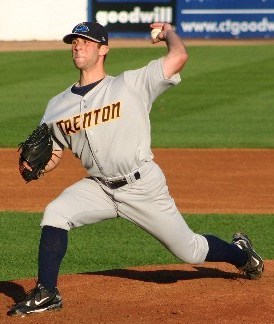 Broken Down
The Yankees didn't just fail to sign Cole, they also didn't sign their second round pick either. RHP Scott Bittle out of Ole Miss had agreed to a contract, but a pre-signing physical found some wear and tear in his shoulder and the team backed out. Bittle returned to school and had a strong senior season, which led to the Cardinals taking him in the fourth round of the 2009 draft. He blew out his shoulder almost immediately after signing and has been out of baseball since 2011.
The Yankees did receive compensation picks for failing to sign Cole and Bittle, picks they used to draft OF Slade Heathcott and C J.R. Murphy in 2009. Those two are among their top prospects right now, but I would trade both for Cole and whatever is left of Bittle's shoulder in a heartbeat.
Because failing to sign Cole and Bittle wasn't enough, supplemental first round pick LHP Jeremy Bleich — the compensation pick for losing Luis Vizcaino to the Rockies — blew out his shoulder in May 2010 after an underwhelming 2010 campaign (4.86 ERA and 2.07 K/BB in 144.1 innings across two levels). He returned to action as a reliever last last year and currently owns a 3.32 ERA (3.71 FIP) in 21.2 innings for Double-A Trenton. Bleich is the fringiest of fringe prospects following surgery.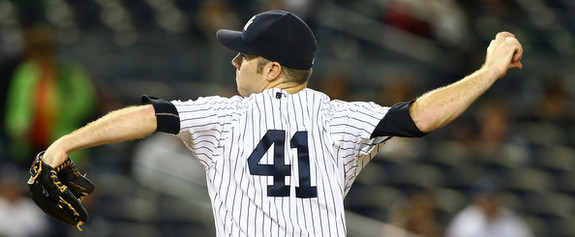 The Late-Round Success Story
As bad as the top three picks were, the Yankees did uncover a gem in RHP David Phelps (14th round). Phelps had a breakout sophomore year at Notre Dame but a disappointing junior/draft year, and the Yankees gambled $150k that they could get him back to his sophomore self. That happened almost immediately, as he flew through the minors in three years and never once posted an ERA over 3.00.
Phelps made the big league roster out of Spring Training as the long man last year, and he's since pitched his way into the rotation and become a valuable member of the staff. In 142 innings split between 15 starts and 28 relief appearances, he has a 3.49 ERA and 4.12 FIP with New York. The Yankees struck gold with their 14th round pick and $150k investment.
Reached The Show
Phelps is not the only 2008 draftee to reach the show with the Yankees. In fact, IF David Adams (3rd round) is now the team's everyday third baseman following the injuries to Kevin Youkilis and Alex Rodriguez. He's performing very well and is playing his way onto the roster even when those two return. Adams missed an awful lot of time with injuries over the years, including a fractured ankle that cost him almost all of the 2010 and 2011 seasons, so his story is definitely one of perseverance.
In addition to Phelps and Adams, IF Corban Joseph (4), RHP Brett Marshall (6), and RHP D.J. Mitchell (10) have all reached the big leagues with the Bombers. Joseph and Marshall made their short-lived debuts within the last two weeks and are just up-and-down players at this point. Mitchell made four underwhelming appearances last summer before being traded to the Mariners for Ichiro Suzuki at the deadline. He's since been released by Seattle and currently pitches in the Mets system.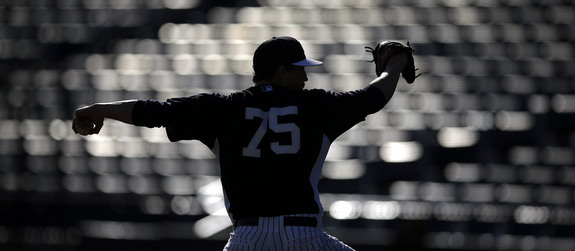 The Other Late-Round Success Story
Turning a 14th round pick into a useful big leaguer is a pretty awesome accomplishment, but the Yankees also turned their 50th round selection — the 1,502nd of 1,504 total players drafted in 2008 — into a legitimate prospect. A commitment to BYU and impending two-year Mormon mission scared clubs away from Southern California prep LHP Nik Turley, but the Yankees convinced him to turn pro with a $150k bonus.
In the five years since, Turley has developed from a gangly and raw high school arm into the team's top left-handed pitching prospect. He's climbed the ladder slow and deliberately, but he earned a spot on the 40-man roster last winter by pitching to a 3.00 ERA (~3.39 FIP) in 117 innings split across High-A Tampa and Double-A Charleston. I ranked Turley as the team's 11th best prospect a few weeks ago, and this year he owns a 4.46 ERA (4.39 FIP) with the Thunder. He should made his big league debut at some point next season, six years after being the third to last player picked in the draft.
The Other Unsigned Gems
Cole is obviously the headliner here, but the Yankees also failed to sign 36th rounder LHP Chris Dwyer. He turned the team down out of high school before signing with the Royals as a fourth rounder out of Clemson in 2009. He was a super-rare draft-eligible freshman. Dwyer had a huge 2010 season across two minor league levels and Baseball America ranked him as the game's 83rd best prospect prior to the 2011 season. His performance went south in a hurry — 5.77 ERA and ~4.75 FIP in 277.1 innings from 2011-2012 — and he's just a fringe prospect now.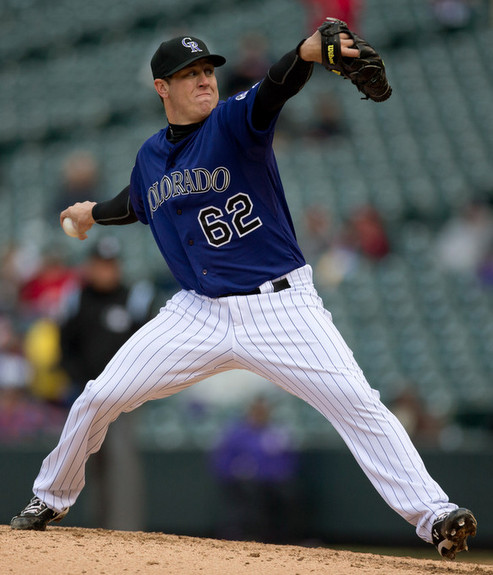 RHP Rob Scahill (48) also passed on New York, instead returning to Bradley for his senior year. He was an eighth round pick of the Rockies in 2009, then climbed the minor league ladder in short order before debuting with Colorado as a September call-up last year. In 14 innings spread across eight relief appearances these last nine months, Scahill owns a 0.64 ERA and 2.86 FIP.
The Rest of the … Rest
The Yankees drafted 51 players in 2008, signing 34 of them. Of those 34, ten remain in the organization. Bleich, Adams, Joseph, Marshall, Phelps, and Turley are six of the ten. The other four are organizational players: C Kyle Higashioka (7), RHP Mikey O'Brien (9), IF Addison Maruszak (17), and SwP Pat Venditte (20).
Venditte is the most notable of the bunch because of the whole ambidextrous thing, but he currently recovering from right shoulder surgery. Higashioka is a strong defensive catcher who will miss the rest of the year following Tommy John surgery. O'Brien is having an okay year with High-A Tampa and Double-A Trenton, and Maruszak is doing the same with Triple-A Scranton.
I have to mention somewhere that the Yankees traded RHP Andy Shive (35) to the Indians for Kerry Wood at the 2010 trade deadline. He was released following that season and has been out of baseball since. Wood, as you remember, was a valuable setup man for New York down the stretch that year.
* * *
Fair or not, the 2008 draft will be defined by the failure to sign Cole. He is one of the top pitching prospects in the game and could become on of the top pitchers in the world in relatively short order. Using a first round pick on that player and failing to sign him is a big kick to the gut.
Beyond Cole though, the Yankees have gotten one good big leaguer out of this draft in Phelps. Adams looks to be on his way to joining him in the "useful player" ranks while the book is still out on Joseph, Marshall, and Turley. Shive was useful in his own way. As much as losing out on Cole sucks, the Bombers have gotten some value from this draft class. Just not impact talent.