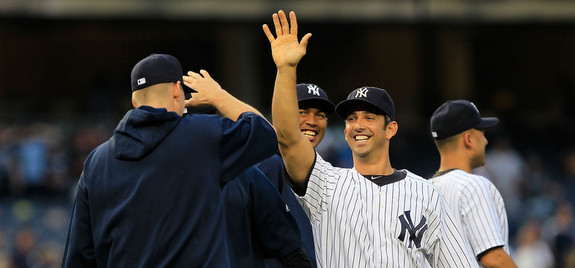 The Yankees wrap-up their ten-game homestand today, a homestand that has already been a smashing success. They've won seven of nine so far, including all four against the division rival Blue Jays. This afternoon's game will determine whether they go 8-2 or 7-3 on the homestand, and I think we all agree the former sounds a whole lot better than the latter. Plus the Yankees are off tomorrow, and you know as well as I do that off-days are so much better when they follow wins. Here's the starting lineup that will face rookie righty Dan Straily…
CF Brett Gardner
2B Robinson Cano
LF Vernon Wells
DH Travis Hafner
RF Ichiro Suzuki
3B Jayson Nix
1B Lyle Overbay
SS Eduardo Nunez
C Chris Stewart
And on the mound is the 2001 ALCS MVP, left-hander Andy Pettitte.
Couldn't have asked for better weather this weekend. It's gorgeous outside. The game is scheduled to start at 1:05pm ET and can be seen on YES. Enjoy.
David Robertson Update: Robertson (hamstring) played catch for the second straight day and still feels a little bit of tightness. He's going to play catch again before Tuesday's game and if that goes well, he'll throw some pitches off a mound in the bullpen.
Mark Teixeira Update: Teixeira (wrist) took batting practice on the field today for the first time. He'd been hitting in the batting cages for a week or so. Like pretty much every other Yankee on the DL, Teixeira will head to Tampa while the team goes out on the road trip.