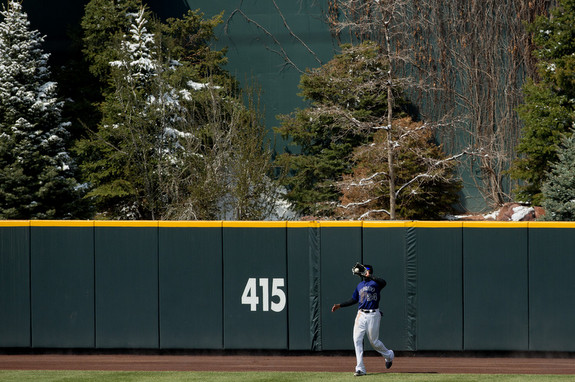 I'm not going to lie: I am not looking forward to these three games in Coors Field. Hiroki Kuroda spoke to Ken Davidoff about the challenges of pitching in the thin mountain air, and it doesn't sound fun. Considering how much the Yankees rely on their pitching, they have to hope the altitude helps the bats or their pitchers avoid the pitfalls of Coors Field. Here's the lineup that will face left-hander Jorge De La Rosa…
CF Ichiro Suzuki
SS Jayson Nix
2B Robinson Cano
LF Vernon Wells
RF Ben Francisco
1B Lyle Overbay
3B Chris Nelson
C Chris Stewart
SP Hiroki Kuroda
This is the team's first non-Eastern Time Zone game of the year, which I'm guessing you realized when the game didn't start at 7pm ET. First pitch is scheduled for 8:40pm ET and can be seen on YES. Enjoy.
David Robertson Update: Robertson (hamstring) played catch and threw some pitches in the bullpen, and everything went fine. He considers himself available tonight, but it's unclear if Joe Girardi will give him the proverbial "one extra day."
Ivan Nova Update: Nova (triceps) is scheduled to pitch in an Extended Spring Training game tomorrow, according to Anthony McCarron. Is it a coincidence he lines up a) with David Phelps' rotation spot, and b) to pitch Monday (the doubleheader against the Indians)? I'm guessing no. Nova is eligible to come off the DL on Sunday.