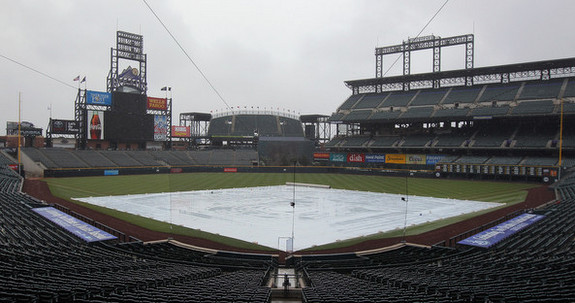 The Yankees and Rockies played through some sloppy conditions last night, mostly scattered showers with the occasional flash of lightning mixed in. Tonight's forecast calls for more of the same, except the chances of precipitation are higher. That doesn't mean they won't play, just that it'll be another messy game. Maybe even a delay or two. They could always play a doubleheader tomorrow, but that would not be ideal. Here's the lineup that will face right-hander Juan Nicasio…
Yes, the pitcher is batting eighth. Maybe Joe Girardi knows they're going to get rained out and is just screwing around with us*. Either way, the game is scheduled to start at 8:40pm ET and can be seen on YES. Enjoy.
* There's actually been quite a bit of research done that shows batting the pitcher eighth is a good idea because the nine-hole hitter acts as a second leadoff man. As with all lineup stuff though, it's a good idea over the course of 162 games. One individual game is another matter entirely.
Eduardo Nunez Update: Nunez (ribcage) played catch today and is available tonight as a pinch-runner, but nothing more. Hopefully he can hit tomorrow and get back into the lineup, because having no backup infielder kinda stinks.
Ivan Nova Update: Nova (triceps) allowed two runs on five hits and three walks in 4+ innings of work during an Extended Spring Training game today. He felt fine physically, but they're going to wait to see how he feels tomorrow before penciling him in for Monday's doubleheader.