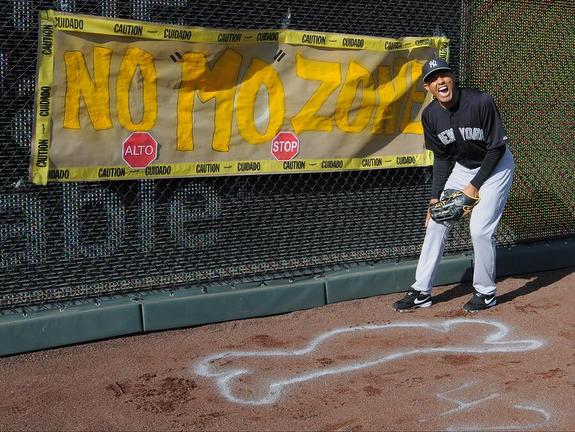 Coming into the season, the Royals and the Yankees were viewed as polar opposites. One has been in a cellar for the better part of two decades, the other has been at the top of the game. One made a huge blockbuster trade this past offseason, the other kinda sat around and did nothing. One has a roster full of young talent, the other has lots of old guys. One team is viewed as an up and comer, the other a … down and goer?
They both, however, currently sit right near the top of their respective divisions. The Yankees actually lead the AL East by percentage points over the Orioles and Red Sox despite lagging in the run differential department. Now that they can again use their DH and won't have to worry about any left-handed starters, let's hope they can beef up that record and increase that division lead this weekend. Here is the lineup that will face right-hander Wade Davis…
CF Brett Gardner
2B Robinson Cano
LF Vernon Wells
DH Travis Hafner
RF Ichiro Suzuki
SS Jayson Nix
1B Lyle Overbay
3B Chris Nelson
C Chris Stewart
And on the mound is the 2004 First Team High School All-American, Phil Hughes.
Tonight's game is scheduled to start a little after 8pm ET and can be seen on YES. Enjoy.
Eduardo Nunez Update: Nunez (ribcage) took some swings in the batting cage and felt fine, but he won't hit on the field until tomorrow. I assume he's available in an emergency like yesterday.
Joba Chamberlain Update: Joba (oblique) threw a 27-pitch bullpen session and came through with no issues. He'll do the same on Sunday, and if that goes well, he'll head out on a minor league rehab assignment.