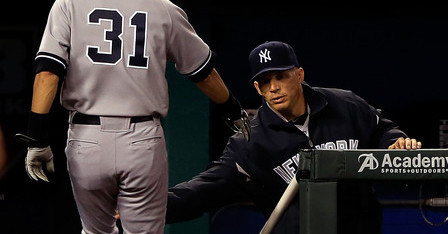 The Yankees have won three straight and 20 of their last 29, but they need a rebound today. Specifically, they need Andy Pettitte to rebound from two dreadful starts and get back to being, well, Andy Pettitte. He says his cutter is the primary culprit, but when a pitcher that age had back trouble a few weeks ago, it's hard not to wonder if there's something more to the struggles. Here's the lineup that will face righty Jamie Shields…
And on the mound is the guy Baseball America ranked as the 49th best prospect in baseball prior to the 1995 season, left-hander Andy Pettitte.
I truly despise Saturday night games, but what can you do. The game is scheduled to start at 7:10pm ET and can be seen on YES. Enjoy.
Eduardo Nunez Update: Nunez still feels something in his ribcage and did not take batting practice on the field today as expected. He'll take today off and try again tomorrow.