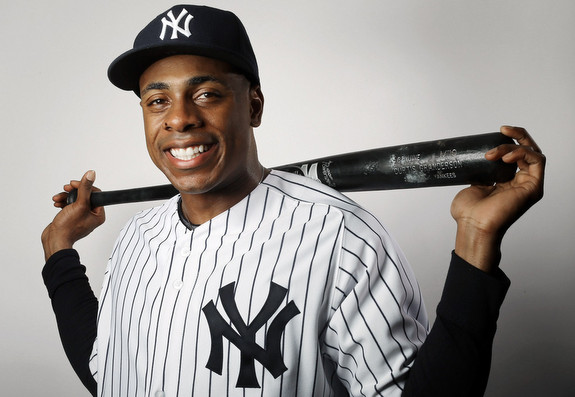 The first place New York Yankees just got their 40-homer outfielder back.
As expected, Curtis Granderson was activated off the DL earlier today, adding some thump and much-needed depth to the lineup. As an added bonus, he is shifting to left field as the Yankees look to optimized their defense by keeping Brett Gardner in center. I can't imagine Granderson is happy about that, especially in his free agent year, but I'm guessing we won't hear a peep out of him. Dude is a total pro. Here's the lineup that will face right-hander Felix Hernandez…
CF Brett Gardner
2B Robinson Cano
DH Vernon Wells
LF Curtis Granderson
1B Lyle Overbay
SS Jayson Nix
RF Ichiro Suzuki
3B Chris Nelson
C Austin Romine
And on the mound is left-hander CC Sabathia.
Little chilly, but otherwise the weather in New York is wonderful. Tonight's game is scheduled to start at 7:05pm ET and can be seen on YES. Enjoy.
Kevin Youkilis Update: Youkilis (back) is still limited to light workouts in Tampa, basically playing catch and fielding grounders hit right at him. Doesn't sound like he is close to returning at all.
Mark Teixeira Update: Teixeira (wrist) continues to take batting practice in addition to running and fielding drills. He's been doing that for a few days now, but there is no word on when he will be able to begin playing minor league games.
Alex Rodriguez Update: A-Rod (hip) is hitting in the batting cage and sprinting, but nothing more. He still has a long way to go, obviously.