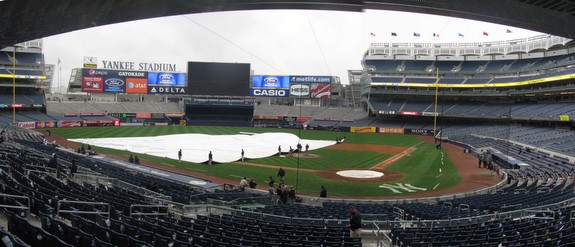 Mother Nature might have mercy on the Blue Jays today. After losing the first two games of this series and eight of their first nine games against the Yankees this year, Toronto might be able to weasel out of Sunday's game thanks to a steady but not heavy rain. Here's the lineup they're sending out there against knuckleballing right-hander and reigning NL Cy Young Award winner R.A. Dickey…
CF Curtis Granderson
2B Robinson Cano
LF Vernon Wells
DH Travis Hafner
1B Lyle Overbay
3B Jayson Nix
RF Ichiro Suzuki
SS Reid Brignac
C Austin Romine
And on the mound is the 2009 ALCS MVP, left-hander CC Sabathia.
This afternoon's game is scheduled to start a little at 1pm ET, but that seems unlikely based on what's going on outside my window. If/when they do play, you can watch on YES. Enjoy.
Update (12:33pm): The game has been postponed with no makeup date announced. The Jays come back to the Bronx just one more time this year, from August 20-22. Both teams are off on the 19th, so that might work for a makeup date.