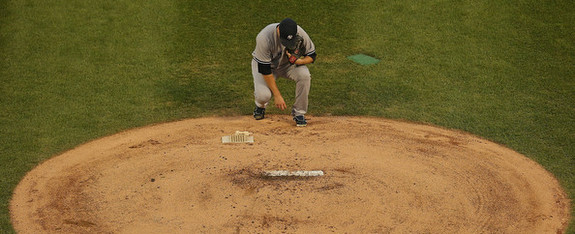 Phil Hughes didn't just have the worst start of his career last time out, he had one of the worst starts by a Yankee this century. I guess the good news is there's nowhere to go but up from a seven-run, two-out disaster like that. Hughes talked about getting on top of the ball and needing to better his fastball command these last four days, but the time for talking is over. Phil gets his shot at redemption against the division rival Orioles tonight, for a team that has won three straight against a team that has lost six straight. Here's the lineup that will face fresh off the DL Miguel Gonzalez…
CF Brett Gardner
2B Robinson Cano
LF Vernon Wells
DH Travis Hafner
1B Lyle Overbay
RF Curtis Granderson
3B David Adams
SS Jayson Nix
C Austin Romine
And on the mound is the only Yankee to earn a win during the 2007 ALDS, right-hander Phil Hughes.
Summer's coming. It's warm and kinda humid in New York, so typical baseball weather. The game is scheduled to begin a little after 7pm ET and be seen on My9 locally and MLB Network nationally. Enjoy.
Injury Updates: Kevin Youkilis (back) had three at-bats today — I assume in a simulated game — and actually took some swings. He had been just standing in the box and tracking pitches until today … Joba Chamberlain (oblique) will pitch in a minor league game tomorrow, and the team plans on having him make two appearances before activating him off the DL … Mark Teixeira (wrist) got four more at-bats in a simulated game … Ivan Nova (triceps, back) threw several innings in a simulated game or Extended Spring Training game yesterday.