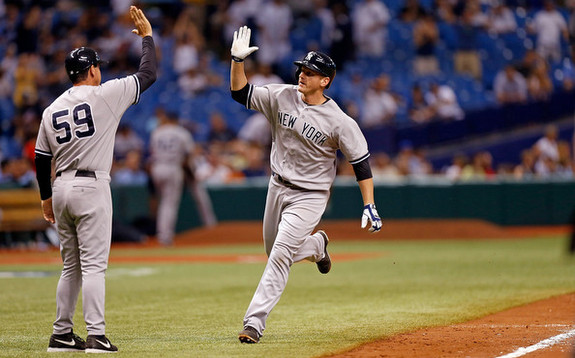 The Yankees won the first two games of the series in very different ways — they blew out the Rays on Friday before Saturday's dramatic, come-from-behind win in extra innings. They haven't swept a three-game series at Tropicana Field since September 2005 (!), when the opposing starters were Seth McClung, Mark Hendrickson, and Doug Waechter. Times have indeed changed in Tampa. Here's the lineup that will face right-hander Alex Cobb…
CF Brett Gardner
2B Robinson Cano
LF Vernon Wells
DH Travis Hafner
1B Lyle Overbay
3B David Adams
RF Ichiro Suzuki
SS Jayson Nix
C Austin Romine
And on the mound is the three-time Warren Spahn Award winner, left-hander CC Sabathia. The Warren Spahn Award is given to baseball's top southpaw each season by the Oklahoma Sports Museum.
The weather is gorgeous in St. Petersburg, but the Yankees and Rays will be indoors in the climate-controlled Trop. The game is scheduled to start at 1:40pm ET and can be seen on YES locally and TBS nationally. Enjoy.
Injury Updates: Chris Stewart (groin) is still feeling discomfort and remain out of the lineup for the time being … Eduardo Nunez (ribcage) suffered a setback when he tried to ramp up his workouts yesterday and will be shut down for at least a few days … Andy Pettitte (trap) will throw a simulated game on Tuesday and could return to the rotation by Monday of next week … David Phelps (forearm) played catch and felt fine. He's expected to make his next start.