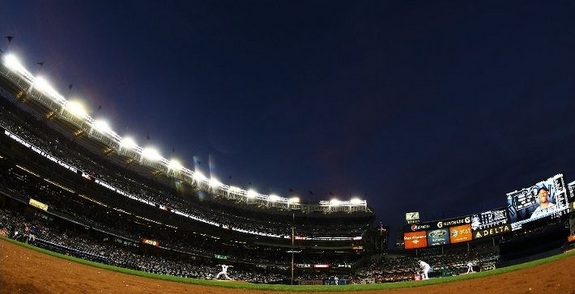 The Yankees have dropped three straight and five of their last seven games, easily their worst stretch of the season since losing four of the first five games back in April. All seven of those games were played on the road though, and now they're back in the Bronx were they … haven't scored much this year? It's true. The Yankees have averaged just 3.3 runs per game (92 wRC+) at home compared to 4.5 runs per game (90 wRC+) on the road. That will even out as the season progresses, I'm very sure of it. Hopefully it starts tonight. Here's the lineup that will face right-hander Jeremy Hefner…
CF Brett Gardner
2B Robinson Cano
DH Travis Hafner
1B Lyle Overbay
RF Brennan Boesch
LF Ichiro Suzuki
3B Jayson Nix
SS Reid Brignac
C Chris Stewart
And on the mound is Baseball America's sixth best prospect in Missouri prior to the 2005 draft, right-hander David Phelps.
The weather in New York is a whole lot nicer than it was last night, but there is actually a chance of showers tonight. Not torrential downpour, but enough that they might be playing in slop or even delayed at some point. The game is scheduled to start a little after 7pm ET and can be seen on both YES and SNY locally. Enjoy.
Injury Updates: Derek Jeter (ankle) has been cleared to start throwing, but nothing else … Curtis Granderson (pinky) had a pin placed in his hand this morning. It doesn't change his timetable at all, it'll still be at least four weeks before he can resume working out … Andy Pettitte (trap) is expected to rejoin the team during the Indians series early next week. My guess is Vidal Nuno gets sent to Triple-A following tomorrow's start to clear a roster spot for Mark Teixeira/Kevin Youkilis, with Pettitte taking Nuno's rotation spot when it comes around on Tuesday … Eduardo Nunez (ribcage) is still resting following his setback the other day and is not close to returning.