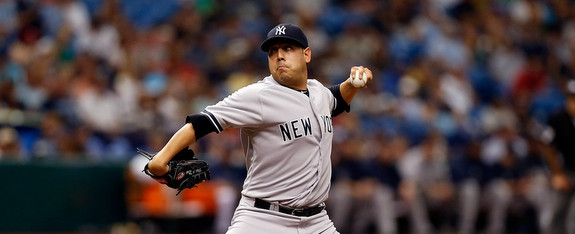 The Yankees have lost four straight — including the last three to the Mets — and six of their last eight games, easily their worst stretch of the season. They aren't hitting, and of late they aren't pitching either. When one goes bad, it's manageable. When both go bad, you can't win. The Yankees need Vidal Nuno (Vidal Nuno!) to step up and be a stopper today heading into the important weekend series against the Red Sox. Here's the lineup the Bombers will send out there against righty Dillon Gee…
And on the mound is Mr. Nuno, a left-hander. A southpaw. A scoundrel.
It's straight up hot in New York, plenty warm enough for baseball. The game is scheduled to begin at 7:05pm ET and can be seen on both YES and WPIX locally as well as MLB Network nationally. Try to enjoy.
Mark Teixeira & Kevin Youkilis Update: Teixeira (wrist) and Youkilis (back) are playing in their second (and final, if all goes according to plan) rehab game for Double-A Trenton tonight, and both YES and MLBN will have live look-ins at their at-bats. That seems excessive for a rehab assignment, but whatever.