That was ugly. Every team goes has a few of this disaster starts each year, but that doesn't make them any easier to swallow. The Mariners mopped the floor with the Yankees on Wednesday night, beating them 12-2.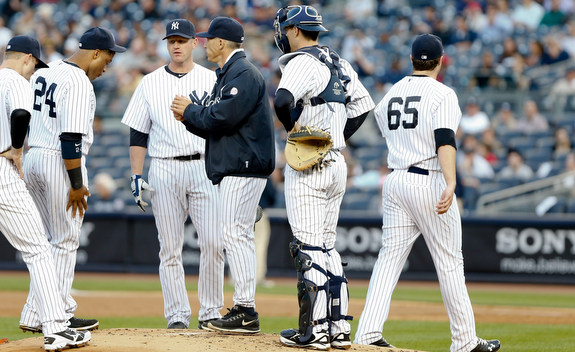 AwPhil
This was definitely not one for the Phil Hughes career highlight reel. He became the sixth Yankees starter to allow at least seven runs in one inning or less this century, joining Bartolo Colon, Chien-Ming Wang, Mike Mussina, Jaret Wright, and Orlando Hernandez. I guess he's in good company at least, outside of Wright. Tiny consolation price.
Anyway, Hughes was ridiculously awful. Rockets all over the field, including a grand slam into the bullpen by former Yankee Raul Ibanez. He faced ten hitters and eight reached base — six hits and two walks. Twenty-three of 36 pitches were strikes, but who really cares. Phil had nothing. Less than nothing, actually. You don't give up seven runs and record two outs with good stuff.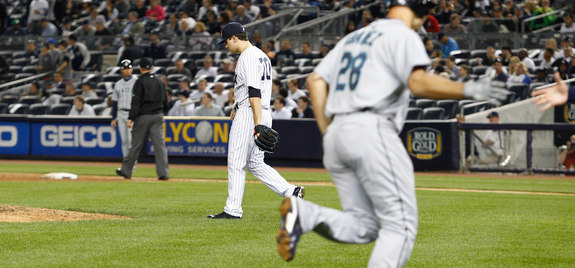 Debut Night
David Adams and Brett Marshall became the fourth and fifth players to make their big league debut with the Yankees this season, joining Preston Claiborne, Vidal Nuno, and Corban Joseph. That seems like an awful lot of big league debuts for one season, especially for a veteran-loving club like the Yankees, doesn't it? This was only the 40th game of the year as well. I wish I knew a way to look that up.
Adams went 1-for-4 with a solid two-strike single to center for his first big league hit, plus he played a pretty good third base. Made a few tough plays and all the routine ones. Marshall, meanwhile, really took one on the chin, surrendering five runs on nine hits in 5.2 innings. He walked five and struck out one, throwing only 56 strikes out of 108 total pitches (52%). Everyone gets a mulligan in their big league debut in my book, but I can't imagine this is what he had in mind. With Joba Chamberlain ready to be activated off the DL, I have to think Marshall will be sent back to Triple-A Scranton on Thursday.
Leftovers
The Yankees scored their two runs on solo homers, one by Vernon Wells and one by Chris Stewart. Lyle Overbay was the only player with multiple hits, and he spent the last three innings resting on the bench. Robinson Cano did the same, but he went hitless and is mired in a little 9-for-41 (.220) slump. That dates back to the Athletics series. The only other player in the lineup who failed to get a was … wait for it … Ichiro Suzuki. He's in an 0-for-20 slump and hitting .238/.281/.331 (57 wRC+) on the year.
Preston Claiborne chipped in 2.1 scoreless innings between Hughes and Marshall, allowing just a ground ball single while striking out two. He's been very impressive so far. Infielder Alberto Gonzalez was on the mound for the final defensive out, but I'm not going to lie, I wanted to see Ichiro pitch. That would have been fun. Wells played second base for that one-third of an inning and didn't have to make a play.
Marshall allowed a two-run homer to Ibanez in the fifth, ending a 28.1-inning scoreless streak by the bullpen. That's pretty damn impressive. Ibanez has three homers in the two games; you think he misses Yankee Stadium at all?
Box Score, WPA Graph & Standings
Sad graph is sad. MLB.com has the box score and video highlights, FanGraphs some more stats, and ESPN the updated standings. Embedded Yankee Freddy Garcia helped the Orioles lose to the Padres, so the Yankees remain atop the AL East by two full games. It's May 15th though, little too early to worry about that stuff.

Source: FanGraphs
Up Next
Same two teams will wrap up this three-game series on Thursday night. Andy Pettitte vs. Aaron Harang is your pitching matchup for the rubber game. RAB Tickets is the place to go for any last minute deals.