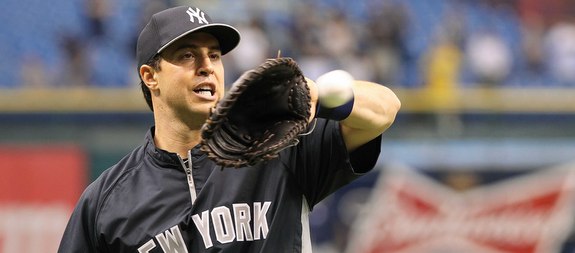 Later this morning, Mark Teixeira and Kevin Youkilis will play their first minor league rehab games with Double-A Trenton. Teixeira has been sidelined since early-March with a wrist injury, Youkilis since earlier this month with a back problem. Both players will spend today and tomorrow with the Thunder, and the Yankees have been dropping hints that both could be activated on Friday if everything goes according to plan. Obviously they've yet to say anything officially.
The Yankees have scored a total of five runs in their last three games, and for the month of May they're averaging just 3.7 runs per game. The AL average is 4.5 runs per game this year. Getting Teixeira and Youkilis back on the same day would be a major boost to the lineup, at least in theory. The problem is that neither guy fill a position of real need right now. Lyle Overbay and David Adams have been competent at worst and rock solid at best at the corner infield spots, where Tex and Youk will ply their trades. They will be upgrades, but first and third bases are hardly problem areas right now.
The true problem areas are catcher, shortstop, and right field. Here, look at this mess (stats don't include last night's game, which don't make it any better anyway):
Catcher: .239/.300/.380 (92 OPS+) in 183 plate appearances
Shortstop: .213/.289/.290 (69 OPS+) in 196 plate appearances
Right Field: .225/.277/.342 (66 OPS+) in 204 plate appearances
That's three below-average to well-below-average spots in the lineup on any given night, not counting the black hole Vernon Wells has become. The lack of offense at those spots isn't a "surprise, injury!" thing either. The Yankees willfully replaced Russell Martin and Nick Swisher with inferior players this offseason, and Derek Jeter's injury was known way back in October. The team decided Eduardo Nunez and various scraps would be good enough should the 38-year-old icon not heal exactly on schedule.
There is no immediate help coming to shore up those three positions. Jeter has yet to resume baseball activates following his setback and isn't expected to return until sometime around the All-Star break. Curtis Granderson saw a specialist about his fractured left pinky yesterday and will be shut down a minimum of four weeks, meaning he'll likely miss at least six weeks when you include rehab games and all that. Frankie Cervelli will head to Tampa later this week to continue rehabbing from his fractured hand, but he has yet to begin throwing a ball or anything like that.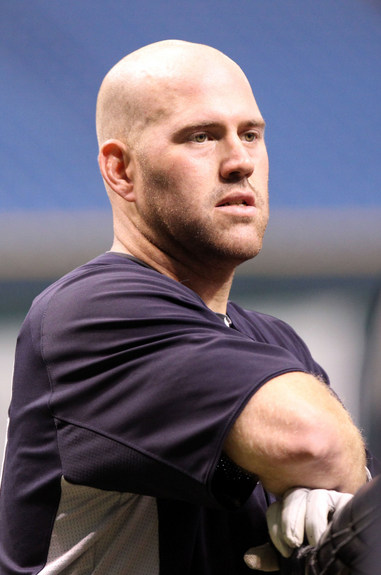 Assuming Youkilis and Teixeira make it through their Trenton assignments okay and are indeed activated on Friday, I think the Yankees will clear room on the roster by optioning Brennan Boesch and a pitcher to Triple-A Scranton. It makes sense to get the 13-man pitching staff down to a normal dozen, and I guess it'll be one of Ivan Nova, Shawn Kelley, and Preston Claiborne who goes down. Seems obvious it should be Nova, no? The other two have been solid and Nova could start every five days in a non-results-oriented environment to work on things.
That leaves the Yankees will a four-man bench of Jayson Nix/Reid Brignac, Adams, Overbay, and the backup catcher. Nix, who has a handful of big league appearances in left and right fields, would be the de factor fourth outfielder. Overbay would be a spot starter at first base and DH as well as being Joe Girardi's go-to lefty bat off the bench. Adams would be the backup second and third baseman, and would probably see plenty of action against lefties.
Carrying what amounts to three first base/DH types in Teixeira, Overbay, and Travis Hafner is far from ideal, but I get the sense the Yankees want to keep Overbay around until they know Teixeira's wrist is in the clear. Not only did Girardi say they plan to ease Teixeira back into the lineup earlier this week, but wrists are tricky and generally easy to re-injury. I doubt they want to dump Overbay only to have Teixeira go down a week or two later. It's an imperfect roster, but I assume it would only be a short-term thing.
The returns of Youkilis and Teixeira will improve New York's offense, especially against left-handed pitchers. Like, super duper improve against lefties. It would help if they played positions other than first and third, but that's life. The Yankees need all the lineup help they can get right now and aren't in a position to beg. There are no solutions for those catcher, shortstop, and right field problems on the horizon though, so the offense will continue to be a problem even after the two big corner bats return in a few days.